Some of you may have seen some of the Disney pics on facebook, but I just finally downloaded Disney trip 2 and Nicholas's birthday party from last Saturday and then to deal with photobucket too, sheesh!
Anyway, we did the pirate party I was talking about in the party thred. It turned out awesome and the kids had a TON of fun! We had 22 kids here plus their parents, 20 of the 22 were 4 and under, but it went so smoothly you never would ahve known, I think they were all so busy they didn't have time to act up

This is the outfit that each child had. I made the vests out of black felt, Nicholas had a "special" hat and the other kids had some I ordered online, the eye patches came from Target. This is my niece, hence the family resemblence.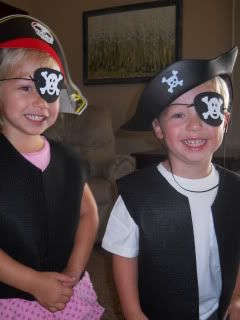 These are the treasure chest cupcakes that I made, it is a Swiss cake roll on top with extra icing piped in and little candies for the "jewels"


When the kids got to our house first they were geared up in their pirate atire (although some were feeling a bit unsure about the pirate stuff, so they just held onto it at first, most of them had it on by the end though)
There was pin the treasure chest on the map


They made telescopes with little stick on jewels (and there was a coloring station too with pirate themed coloring sheets)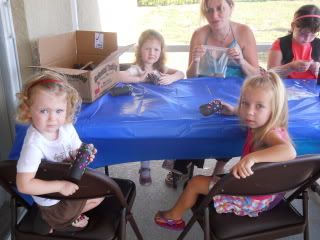 Digging for buried treasure in the sandbox and walking the plank, which I didn't get any good pictures of that didn't include someone else's child that they may not want pictures of online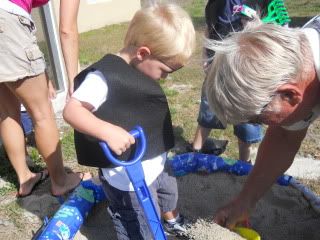 Then they had lunch, mac and cheese, chicken nuggets, veggie straws and fruit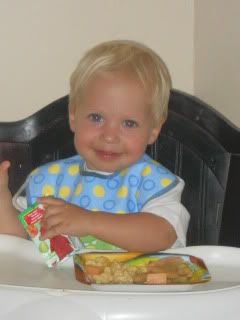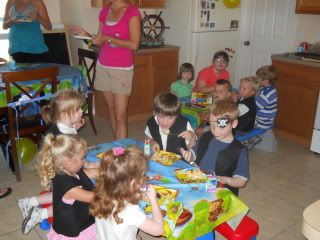 Followed by cake


Then lots of presents
Then finally the treasure hunt. I did clues on different color felt (I was afraid paper would blow away outside). Each color clue led them to another color and the final one told them to make a rainbow with all the clues and then they had to find a rainbow. The rainbow was on a chest that I borrowed from my mom and had all of their goody bags in it. The goody bags had gold dubloons, fake jewels, some silver or gold beads and a couple pieces of chocolate in shiny wrappers (keeping with the treasure theme).
The first clue in the front yard...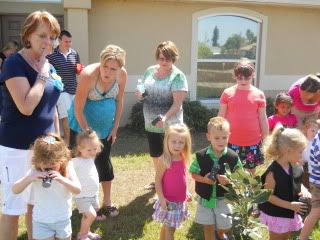 The treasure box after it was opened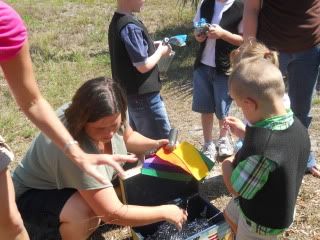 Checking out their "loot"


Nicholas with his favorite treasure, the candy


And a few Disney pics...
William on Dumbo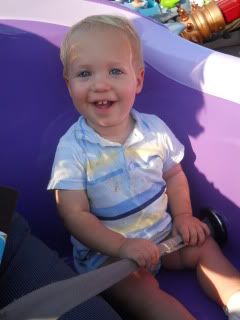 Nicholas with Woody and Jessie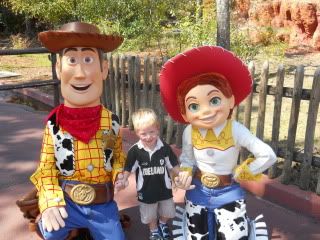 Nicholas making "snow angels" in the foam snow at the Nick Hotel, it's as close as we get around here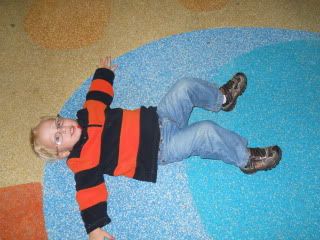 Nicholas and DH with Diego


Me and William waiting for the shuttle back to the hotel


William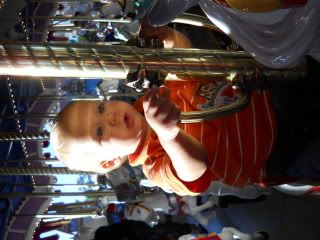 Meeting Mickey and Minnie!


watching one of the street parades on Daddy's shoulders


breakfast with Dora