What an awesome time.....I think the kids were a lil overwhelmed and we prolly pushed them a lil harder than we should have but overall I think they enjoyed it...especially Alyssa
let me preface to by saying that it was mid 90's all week without a drop of rain with the exception of the day we drove from florida to south carolina...needless to say they had alot of popsicles and i think they ruined just about every shirt they wore (don't flinch mel ;))
i did keep a journal in a cute vintage mickey mouse journal with lots of room in it still for future trips
lets see what i remember!!!
the train ride was ok....the train was pretty empty so we had plenty of room to spread out and they put families a couple of rows apart......of course we got placed behind the couple that had 3 kids and paid no attention to them at all...they sat and cuddled and watched a movie while their kids took over all my kids toys and games and left their crumbs all over the area where we were sittting....would have been fine cause Alyssa kept wanting to play with her 'friends' but they were annoying and the parents didn't even flinch....they were up half the night running up and down the aisle and then in the morning the kids were sleeping and the parents went to breakfast which was 2 cars back and left the kids sleeping....oh and speaking of breakfast they had some awesome apple pie type muffins and some yummy melon balls that my kids loved
anyway...the train was fine once i finally got ty to sleep
Day #1 get checked in and meet up with our friends that were downstairs 2 doors down ...went to super target and had lunch.....then went to the pool that night...the pool was awesome....there was actually like 3 different pools...the one had a great baby pool and a small water slide...the other that we went too had a lazy river and waterslides
Day #2 Magic Kingdom
the kids had haircut appointments at 9:30 so we tried to get there for rope drop but it never happened.....it's close to impossible to get everyone together and sunscreened up and out the door..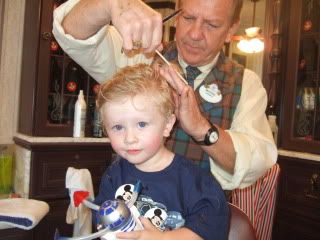 Lyssa got some 'pixie dust' for her hair...she just thought that was the greatest
Met Prince Eric and Ariel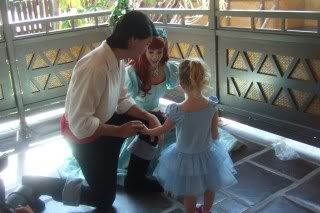 the photopass pictures came out better
Magic Carpets...lyssa doesn't like those up and down rides so i took tyler...his face doesn't show it but he loved it...didn't wanna get off....and everytime we passed it or a ride like it he would say 'get in there...get in there'
Jesse and woody...ty was sleeping in the stroller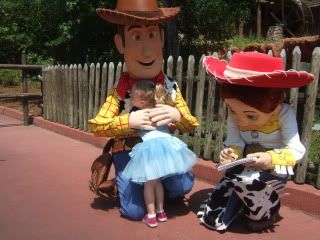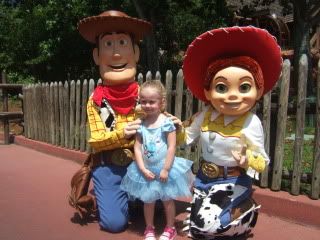 went to lunch and had a
*Magic Moment* we went to get in like at like a The Harbour House (or something like that) ....cafeteria style.....and a cast member came up to us and said "the Captain requests that you be his guest in his upperdeck seating area" so we ordered our meals and the girl walked us upstairs to a roped off area then brough everything to us.....not a huge deal but it was cute and she was really nice....then she brought the kids dessert (which we didn't order) but she brought them these lil chocolate cake things with mickey ears sprinkles on there.....but ty couldn't eat it cause of his allergies so she gave him a mickey straw thing!!!
the carousel (sp?)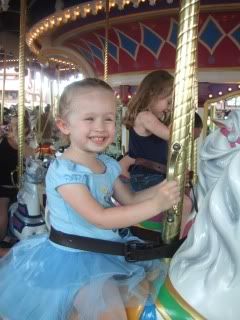 found Donald and Chip/Dale having a dance party in tomorrowland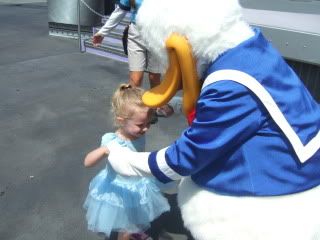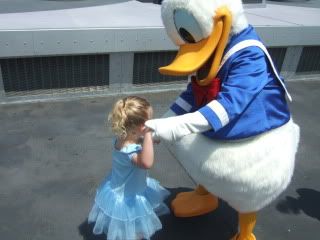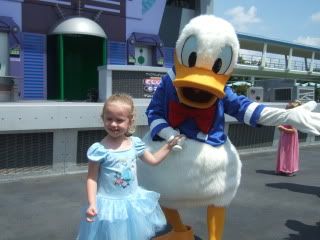 Ty wasn't too keen on most of the characters except a few...more on that later...lol
Day #2 - Epcot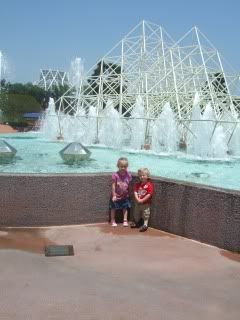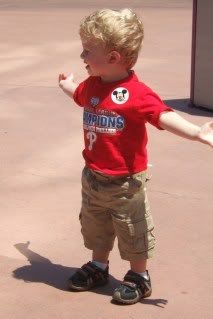 had dinner at The Coral Reef which was in the aquarium at the Nemo attraction which was pretty cool.....Talk with Crush (the narly turtle from nemo) was awesome...it was really funny!!!!
Alyssa's desert....make your own sundae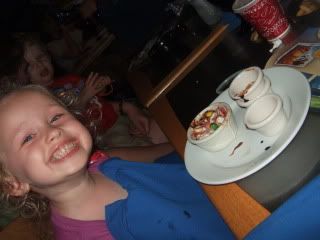 meeting Tink in Pixie hollow...again...the photopass pics of this came out better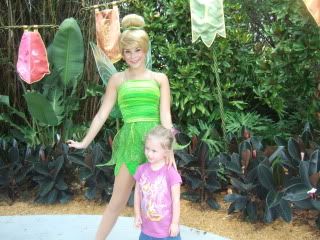 off to World Showcase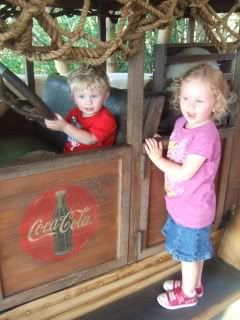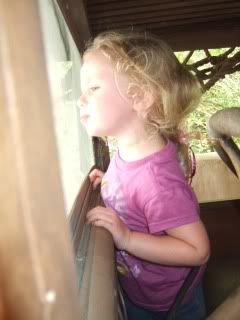 Lyssa and ty were rocking to a celtic band in where else but - CANADA ....lol...they had a blast but the pictures didn't come out very good
hung out for the Illuminations that night...oh ...and a couple of delicious margaritas (for me not the kids of course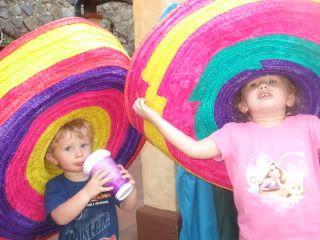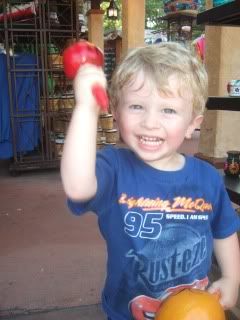 Day #3 - Hollywood studios
Started out with breakfast with the playhouse disney characters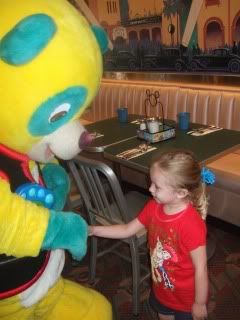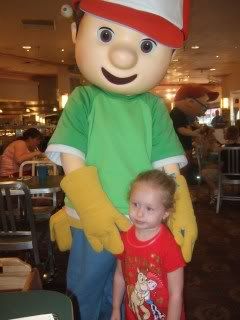 and the Tyler found his love.......June from Lil Einsteins....OMG...he LOVED her...and she kept coming over to him and playing with him and putting her hands on her heart like she loved him...lol...it was stinkin cute....she took him by the hand and walked him all over the restaurant and he was in heaven...lol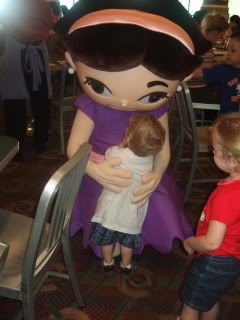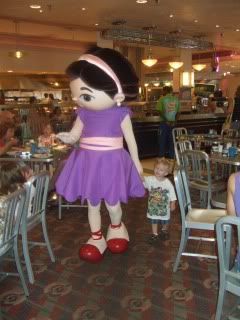 the guys ran out for fastpasses for Toy Story Mania...they said it was nuts...lol...so we rode that and the kdis LOVED it so we grabbed fastpasses again for later that afternoon
steve and i tried to walk the kids around to get them to go to sleep and it just wasn't happenin so we went to some meet and greets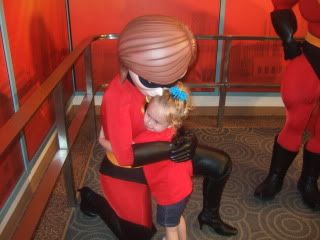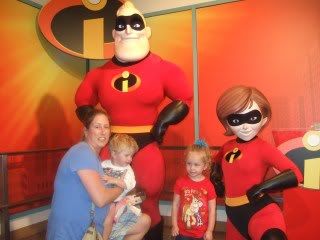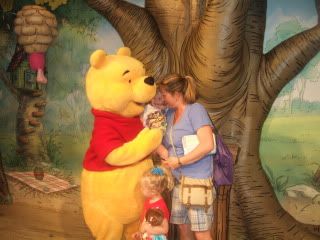 the kids were exhausted when we came out...which in turn made steve cranky :rolleyes: so i snuck them back behind one of the buildings and rocked ty on my shoulder while i rocked alyssa in the stroller while she was facing the wall (lol it was the only way i could get her to go to sleep...too much excitment for her) got them to sleep while my friends went on a ride..steve and i just happened to be walking by a bar that was just opening and grabbed a couple of drinks...yummy....well....in the mean time i must have left the bag with the autograph book in it back behind the building but of course we didn't notice it until we were getting ready to leave the park...more on the later :rolleyes:
Honey I shrunk the kids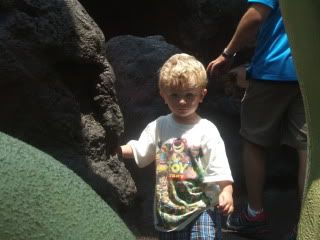 watching the pixar parade which was pretty awesome by the way...had a ton of characters in it!!!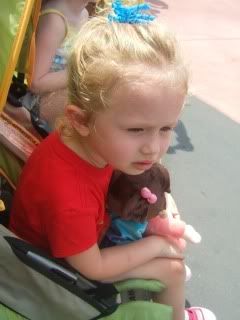 she's holding her new 'boo' doll from monsters inc...really cute!!!
waiting in line for toy story mania again....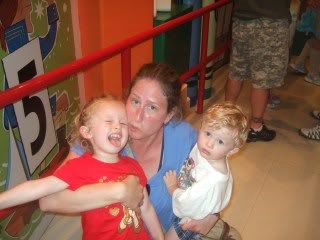 so after toy story mania is when i realized we didn't have the autograph book on the stroller
........ I think steve was more upset than i was..he kept saying "but you put all that time into it" ..yea i did but what are you gonna do...there was nothing i could do about it....i was more upset that alyssa would ask for it and i would have to tell her it was lost...went to guest services on our way out and they didn't have it but the guy said "I know it's not the same as a handmade autograph book" but he took steve into the girftshop and gave him 2 autograph books and pens...he took our number and said he would call if someone found it.......so we went back to the room and within the first hour we were there they called....so steve took alyssa to the pool and i took ty back with me to pick it up
Day #4 - our supposed off day...lol
chef Mickey's for breakfast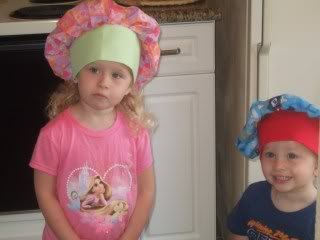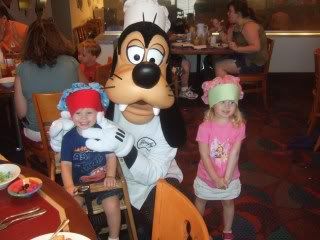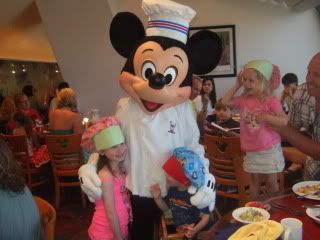 went back to the room and let the kids nap and then everyone wanted to go back to world showcase so we did for some grownup drinks and Illuminations again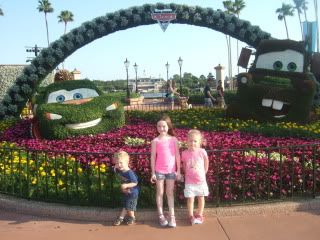 Day #5 Magic Kingdom - again
fastpassed the princess - 3 princess and they rotate....we got to see cinderella, aurora, and belle.....photopass pics are better...in fact steve only took 1 pic and the rest video...lol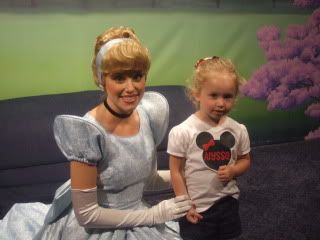 lunch in tomorrow land.....they had hoola hoops set up for the kids to play with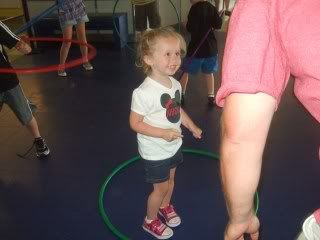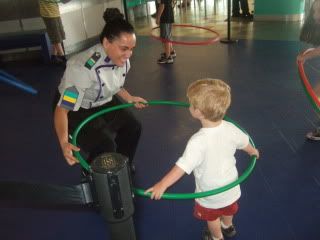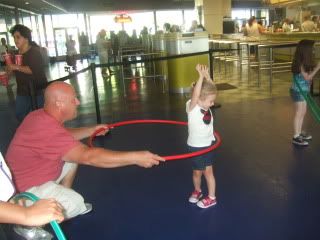 Tomorrowland speedway (or whatever it was called) OMG...both kids loved it cause they got to drive....tyler went with steve and alyssa went with me....the pedal is in the middle so i could reach and we let the kids steer...they loved it.....alyssa turned to me and said in the middle of the ride "this ride is awesome"
Alice in wonderland Tea cups...the kids loved it....steve almost puked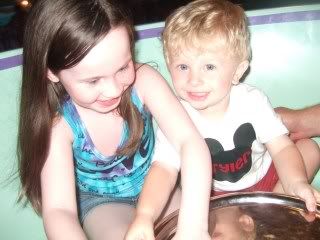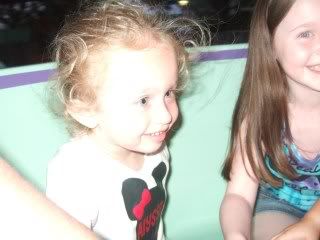 stayed for the fireworks and memories show....was awesome....you can't tell from the pictures but they put people pictures up on cinderella's castle and the lights change and stuff....and one point it looked like there were vines all over the castle...was really cool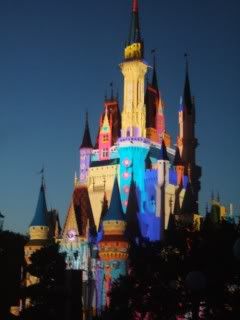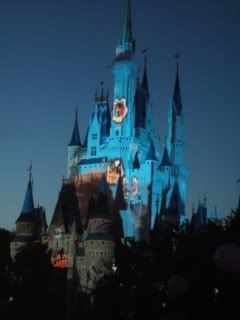 then TINK flew over our heads...omg...tyler couldn't stop talking about it the rest of the night

i strategically got us a spot right underneath of her..lol....the pcture is not that great but her costume was all light up and she was waving to us and stuff
Day #6 - Animal Kingdom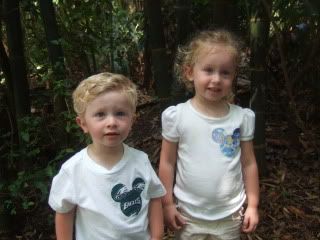 the monkey's were awesome and very active...loved it
we were waiting for our friends to get off the rapids so the kids found a fountain and played in it....drove steve nuts i think that they were getting so wet but come on dude..it's 95 degrees here....they were dry within a matter of minutes....and all the other kids were doing it too!! the had a great time and it kept them busy for about an hour lol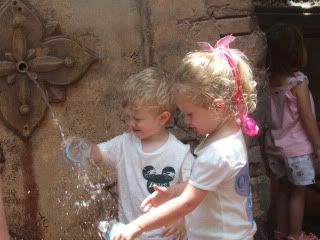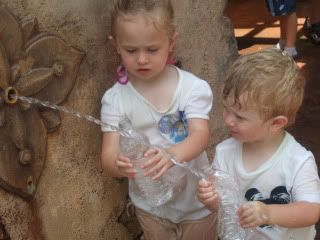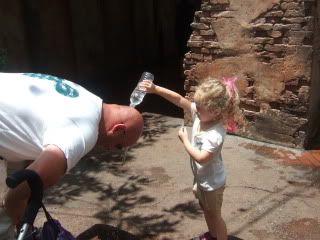 yummy hot day treats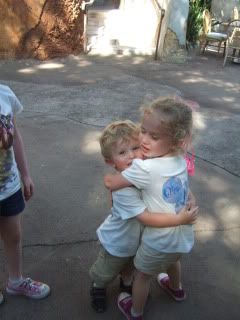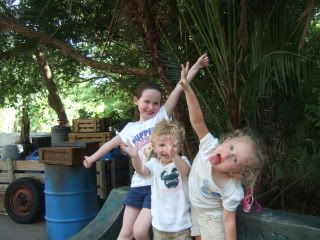 got a couple of videos too but this is the only one that i got a chance to upload yesterday
thanks for looking...sorry so long...and this is actually only a fraction of the pictures...lol....the photopass pics came out awesome...once i get that cd i'll be able to post some of them too!!!!