This is super simple and very cheap!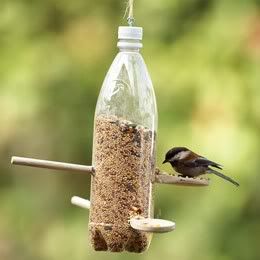 what you need!
-we all have old wooden spoons that need to be replaced and if not the dollar store has them well for a buck!
- old empty bottle with a cap
-birdseed (you can this this cheap at Walmart or Target
-scissors
-twine or other string
upright you poke a few holes into the bottle with scissors or another sharp object
slide in your wooden spoons (I think letting the kids go to town on the spoons with pens or paint would make this fun(er)
fill with birdseed
with the cap you need to poke a hole and tie a knot at the end of your string so you can hang on the tree.. I realize you might need a drill or using a hammer to do this.
http://tlc.howstuffworks.com/family/easy-science-activities-for-kids2.htm
a different tutorial is here.. I like the wooden spoon idea though