Well, all worked out
Papa and Grandma (I mean the Paci Fairy.) got their little cutie a bike today, and he is so proud! He even told someone that walked by us....LOOK WHAT THE PACI FAIRY BROUGHT ME! lol! so cute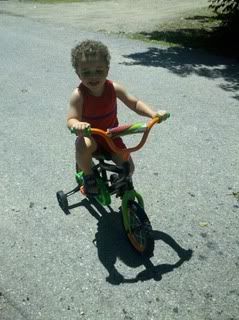 now we need a helmet, for my safety patrol child
So we have been talking about the paci fairy for weeks. Landon has his paci for naps and nighttime. I noticed he was slowly needing it less and less, and well he is 3 1/2 and took the opportunity to really talk up the fairy.
Well the paci fairy is supposed to bring him a bike when he gives it up.
Which is tonight. He talked about it like it was the best day of his life while we played in the covers.
I have no bike.
Not only did I know today was going to be the day he decided, but Walmart and Meijer were completely out of bikes. I had planned to order one on sale, or find one off craigslist. Walmart had one bike left for 70 dollars. No way. The spider-man one we tried last week was 32 and I thought that was pushing it.
I bought him home a balloon and bag of M&M's and cried the whole way home :(. I even went into his room and WOKE HIM UP just now and told him how the paci fairy had a special message and was going to give him this balloon while she builds him the perfect bike. He was half out of it lol but got the message. :confused:
BOO.TO.ME.
to Landon!