Hard to believe Ella turned 6 months a week ago! It's going way too fast!
She had her 6 month check up yesterday. Weighing in at 6.675 kg and is 67 cm long. (14lbs 11oz and About 26.5in) which is about 30% for weight and 70% for length.
Developmentally she's doing great. Passing toys from one hand to the other, turning onto her belly, scooting around in circles, she 'tries' to move forwards by diggin her toes in and pushing her bum up, but she doesn't really get anywhere! She can sit 'gorilla style' holding herself up with her hands before toppling over, but generally isnt interested in sitting, she wants to stand and will straighten herself out every time I try to get her to sit!
We started solids last week. She is totally NOT interested! Spits it out, or just lets it sit in her mouth for ages! She hasn't figured out what she's supposed to be doing with this 'stuff' in her mouth! Guess we'll just keep trying and eventually she'll figure it out!
And what's an update without a few pictures!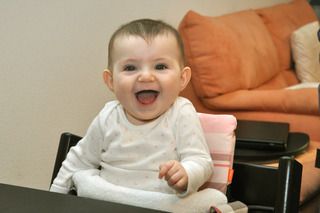 Sitting in her new Tripp trapp high chair