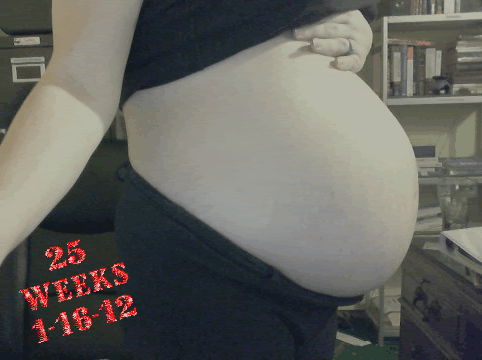 Does anyone else feel this looks a little excessive for 25 weeks? Please note how "tight" my belly is with this baby, there is no extra anything, just baby belly.
Since it's my 3rd pregnancy, the MW is not so much concerned with my fundal height - turns out that my 24 week appointment I actually measured 32cm! Although I measured 3-4 weeks ahead during my last two pregnancies, I never EVER measured 8 weeks ahead.
That's a VERY BIG difference.
Movement for this baby is also very different from my last two. Of course, that could be contributed to position, but I really feel like I'm much MORE pregnant than 25 weeks.
I do NOT have GD and I don't normally have huge babies, so I am starting to wonder if it's possible there is more than one in there. My daughters are convinced it's two babies. I didn't want to think it could be and get all excited for nothing, but now I am really really starting to wonder. I WILL definitely go have a US as soon as I get some cash in that doesn't have to go to bills or groceries.
But what do you think? Am I nuts? Does it look normal size to you? Am I being extra-sensitive? LOL
K, enough babbling, but just wondering.