We finally went to Ella's two month check today (it was delayed due to DS's chicken pox!)
The doctor was very pleased - she seems to be doing all the developmentally appropriate things for her age. (She was also very impressed with Ella's cloth dipe (as was the assistant - both said I should go into business selling them! lol)
She weighs 5.34 kg (11lbs. 12 oz) and is 60 cm (about 23.5 in) which puts her at about 90% for length and 50ish for weight - looks like I'm going to have another long, lean babe!
She got her first shots as well - DPTP and the Pneumocoques (don't know what that is in English! - maybe it's the same?) oh how she cried... poor baby...
And a little general update while I'm at it : she's sleeping very well these days - she sleeps for 6-8 hours and then is back down for 2-3 after she nurses. She falls asleep on her own, in her bassinet beside my bed - she doesn't seem to like being cuddled to sleep - which is great! She still spits up a lot after she eats - still kinda gassy and will often scream as she finishes eating, until she's burped or spit up... or both! lol I go through a lot of t-shirts! She still eats very frequently through the day - every 2-3 hours - I wish she would go longer, but on the rare occasion she does go for 3-4 hours she then eats so much that she spits up all over the place afterwards - so I guess we're on regular small feeds for a whle yet. She's OK with tummy time - although I admit I'm not very good at making she gets some every day - must do better at that. She loves her pacifier - I'm trying to limit it's use to only sleep times now that she's not screaming her head off every time we put her down like she did at first.
and what's an update without a few photos? these are all from May - haven't got the most recent ones off the camera yet!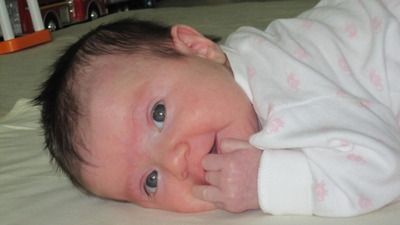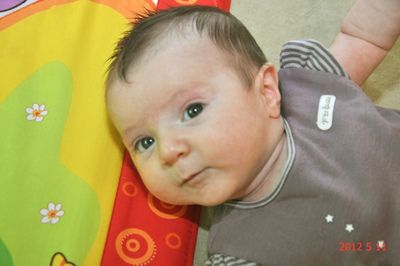 with big brother:

and just cause this one makes me laugh!