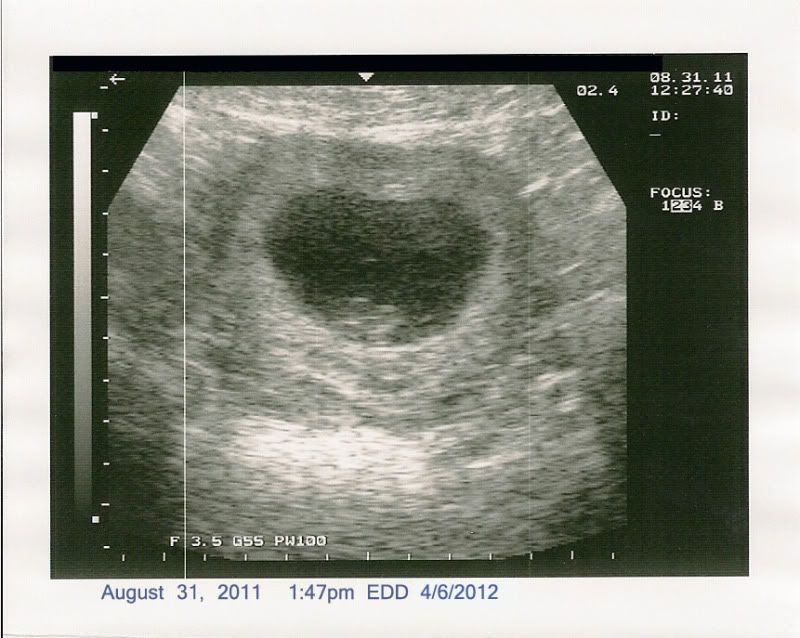 :grin: It's blurry and grainy but it's my little jelly bean in the bottom there. We saw the heartbeat and the little one is is doing well. My BP was good 123/72.
I LOVE this doctor. He sat down with me in his office first to talk things over. He asked me about my LMP and I told him when it was but that I didn't think we should go by that. He listened to every word I said and then told me that we'd find out for sure with the u/s. My dumb butt would have completely forgot to ask about the VBAC :eek: if he hadn't brought it up! I told him I would like to try for a VBAC which he said he totally supports as long as I'm aware of the risks, even if they are low. He said he's never had a uterine rupture happen to him, did have it happen to a colleague once. And then I fell in love with him even more! He will not induce me. He said that if you've had a c/s before and are going for a VBAC the induction drugs make the contractions stronger and because of that I will have to go into labor on my own and will NOT be induced. He said we'd start keeping a close eye on it starting at 38 weeks and just wait for me to go into labor. At this point I am thinking that even if we do move soon, I want to drive the 2 hours to stay with this doc! I don't how that would work closer to my EDD, but that's where I am now. DH even suggested we wait till after the baby to move so we can have the baby here. I don't know about that, but I do like my OB!
Anyway, that's my story. I am so thrilled that everything is going well and is on track.