Happy Solstice everyone! Tim was born on the vernal equinox, so today is the solstice and he is officially 3 months old. I can't believe it! He has gotten sooo big. He weighed 10lb 6oz at his 2 month check up--no idea what he is now.
I have been in Maine visiting my family for the last 3 weeks. I am heading back to Alaska on Tuesday. I am not looking forward to that flight! on the way here my husband came along, but he headed home after a week and I am flying solo with Sam (6yo) and baby Tim. Wish me luck! Thankfully Sam LOOOVES to fly and is very helpful with his little brother.
Tim has been a better baby, still fussy, but much easier to handle now that he is older. He nurses fairly efficiently so even though he wakes often at night, its usually a quick 10-15 minute feed then back to sleep. He melts down often, but I can calm him fairly quickly now. Thank goodness!
Here are some cute pics from this week:
"My brother is a nut..."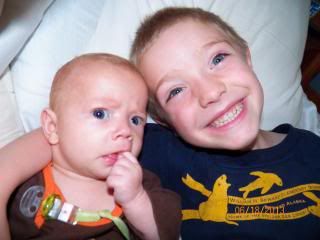 "What is this? fingers???"

The grandma network (my mom's friends who all have littles visit often) loaned us this pink bouncer--Tim is showing his sensitive side.