We completely failed at the diaper change this morning and had to change not only the diaper, but the clothes, MY clothes and MY bedding.
(changing the diaper on the bed with absolutely no protection is not advised!)
Never underestimate the distance the pee can go!
I have nicknamed him the piranha, He loves to clamp down on my poor nipples. OUCH! We have had many conversations about being gentle and nice to the boobies, and he usually complies, but every now and then--CHOMP!
Here are some pictures for your enjoyment!
Timothy enjoying the Bili lights when we were still in the hospital. It's tough being a baby!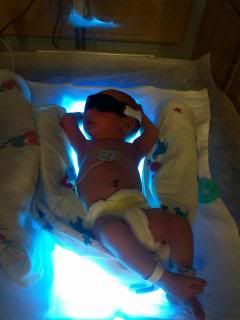 Grandma and Timothy getting some natural bili light therapy

Sleeping little peanut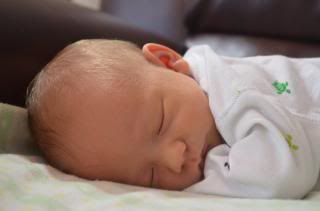 And one last question:
if YOU dropped the binky in the toilet, would you fish it out (in order to throw it out) or just flush? Yes, multitasking was not a good plan this evening!