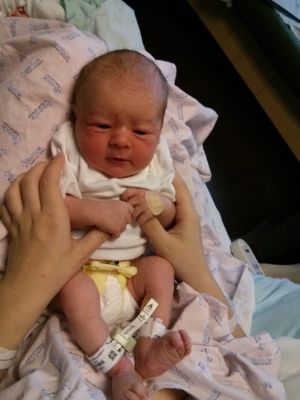 Henry's Birth Story...
Thursday May 2nd I had my 41 week midwife appointment and learned that I was still 0 cm dilated but 100% effaced. They checked my amniotic fluid and it was low. My midwives talked and one wanted me to go the hospital immediately to get induced and the other said I should wait until Monday. So I chose to wait.
I went home and immediately starting having contractions. I thought I should get some sleep so I went to bed at 10pm. At 11:45pm or so I woke up to pee and noticed a gush of fluid. My water had broken, but it had tons of blood in it. I called my midwife and she made us go to the hospital.
We got to the hospital at 12:15am and I was check and indeed my water had broken. The blood she thought was leftover my cervical exam. After for contracting for a couple of hours in the hospital, I noticed I was gushing meconium with my waters. They told me that my because of the meconium, that I would not be able to hold my baby skin to skin or be allowed to have dealyed cord clamping because the nicu team would need to clear his airways immediately. They also said if my labor was longer than 18 hours I would need IV drip antiobiotics because of the meconium.
So when I got to the hospital I was dialted to 2cm. I was happy about the progress since just that afternoon I was 0cm. However after 13 hours of contracting on my own, I got rechecked and I was just barely at 3cm. My midwife said we would have to induce.
We started the lowest dose of pitocin and I was doing great. Then they upped the dosage and the midwife said she would check my progress at the 17 hour labor mark. The contractions got much much worse when they upped my dosage. They were lasting for 5-8 minutes with no real dip in peak like before. The nurses couldn't believe it. Everyone started to get very worried for me and we discussed narcotics or epidural.
I thought for sure that at the 17 hour mark I would be more dilated especially witht those crazy contractions. I decided that if I was 8cm or more I'd continue natural. If I was 5-6cm or more, I'd consider narcotics. And if I had made no progress I would get and epi. She checked me and I was at a very tight 4, more like 3.5cm. I screamed and cried and said I needed the epidural. Once I made that decision, I became very emotional and my doula and midwife talked me thru the decision saying I did experience natural labor and even a harder one than most natural birthing moms. And that even if I had done a home birth or birth center birth, that I would have been one of the 3% of ladies that are transferred because my body was just not cooperating. That helped and then I was just focused on getting that epi.
The anasthesioligist was fast and good. He heard my painful moaning, which I know was crazy loud and decided to give me an extra dose of pain meds in my spinal. About 15 minutes later I didn't feel my contractions. He gave me a great epidural because I could still move my toes and feel the pressure of the contractions but not the pain. She checked me about 20 minutes after the epi and I was already dilated to 7.5 cm. I just needed something to relax my cervix I guess. The epi made me shake and tremble horribly but I finally took a nap.
I woke up and they said I was dilated 10cm and at a station +2 and time to start pushing. This was getting close to the 24 hour mark where they transfer you for a c-section, plus henry was having heart decels from cord compression. So they said I needed to be an effective pusher and get him out fast. Well I listened and since I could feel a bit down there it was easy to know how to push.. I pushed 4x and pushed his entire body out in one push. Apparently I pushed so hard that he flew to the opposite side of the bed. Henry Arnone Vaughan was born on May 3rd at 8:46pm. He weighed 6lbs. 7oz and was 18.5 inches long. His apgars were 8 and 9.
He went immdiately to the nicu crew inside my room. I heard they suctioned quite a bit out of him. They determined he was SGA (small gestational age) and because of that there was a blood sugar protocol they had to follow before I could feed him.
I had a 4th degree tear and my midwife said she had never seen anything like it and didn't feel comfortable repairing it. So she called a consutling physician and I waited 2 hours before he got there to stitch me up. I bled through 35 surgical towels and they told me I lost a lot of blood.
The next day they decided I had to have a blood transfusion. The heplock for the transfusion really pissed me off. That's a whole other story..
But Mr. Henry is doing great. His blood sugar is normal now and he LOVES to eat. The longest he has gone to eat is right now...which has been 45 minutes. We are home now and so thankful for that and that we are both healthy. Justin has been so great thru all this.