We got there and they didn't have us scheduled for an ultrasound!!! They were kinda blaming it on me too, like I know how their process works, but whatever, the tech wasn't busy, so they did it. Thank god because we pulled DS from school just so he could be there. Anyway, I know you're all dying to know so ....
GIRL!! She kept rolling away from us so we didn't get a good profile, but we got this amazing shot of the back of her head where you can make out her ear and this adorable feet shot. We got a cool glimpse of her opening her mouth, but it's kinda scary in picture, lol. Anyway, we're all super happy and very excited.
Also, for good measure, I took a belly shot this morning, so enjoy!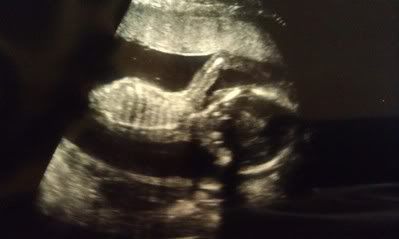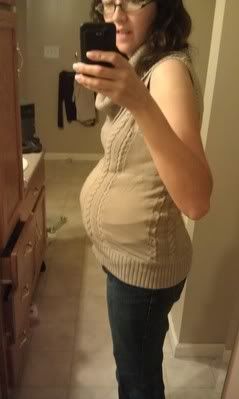 Also, I'm working on resizing, so in the meantime ... sorry.