It's been a while, so I thought I'd share some pictures!
Here's a belly picture - about 2 weeks old already!! This is me at 23 weeks 1 day....already outgrowing some of my maternity tops in length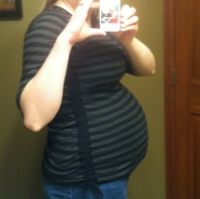 And my most recent picture of baby - 24 weeks when they checked my cervical length, they took a quick peek a baby too -- looks like he was maybe sucking his thumb
Everything looked great at my last appointment btw - Cervical length was hanging in there at 36 mm - was 39 mm when we checked it last at 20 weeks, so she feels confident in not checking it any more. I was very happy with 36 mm - at 24 weeks w/ DS, I was 34 mm at that point. It wasn't until 28 weeks with DS that my cervical length dropped, but then it held steady at that point when we rechecked at 30 & 32 weeks

Next appt is at 28 weeks when I get to do my glucose testing - yipee!!!!