Today was the big day!
Thanks to the fabulous weather today, DD's school was closed and DS's daycare was also closed, SO, both came to the scan. Luckily DH was able to step away from work long enough to be there with us. Thankfully, he works at the same hospital
DS was a pill during it all - got lots of treats/candy and shows on the Ipad to keep him somewhat contained.
I don't have "official" results as my midwife couldn't make it into town due to the weather - she's stuck 4 hours away. But they told me that if they saw anything concerning, they would have one of the doctors in the practice see me. I'm scheduled to see my midwife tomorrow, if all goes as planned.
They confirmed that my placenta is anterior, which I was sort of suspecting. I haven't felt a ton of movement yet, so was wondering about that. Just lately I've felt more - but I skipped those light fluttery first feelings I remember with DD & DS and am feeling more pronounce jabs now - like on my bladder
Baby is also currently breech, got pictures of all the anatomy things that they needed to. They checked my cervical length and the tech said "it looked good". I like to know exacts, but should find that out tomorrow hopefully
We were able to find out baby's gender....but here are some pictures first.....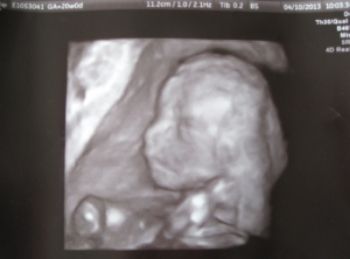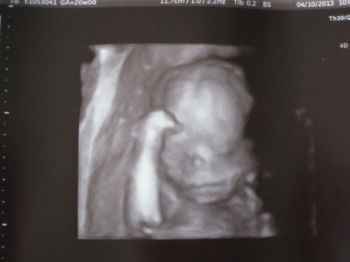 It's a BOY!!!!
So, DH & I were both wrong
DD says she happy it's a boy b/c DH told her if it was a girl, the baby would want to play with her Barbies, etc, so now she doesn't have to share those with a brother

DS might actually sort of "get" that there's a baby in there now. He watched them doing the scan and saw the pictures on the screen and kept saying "baby". We kept telling him that there's a baby in mom's tummy - so if anything, maybe coming along will help him understand now!