SO it is not the most creative title. But I guess I can change that later. I had wanted to start a journal for Hunter during my pregnancy, but something kept me from doing that. I believe it was my intense fear something would happen to him, and all I would have would be the journal. I think I was afraid it would be too painful to read what happy things happened during my pregnancy. But now that Hunter is here, safe and sound in my life, I really want to have a place to put down my thought, feelings, and what is going on in our lives. I am so truly blessed to have him in my life, I want to remember these days forever.
I will start with a brief overview of my pregnancy:
It was back in March 2007 that I had a feeling something was different with me. On a whim I bought a dollar tree test, and low and behold, 4 minutes later, there was a line! I was sure I had waited to long to read the test, so I sneaked in one of those tests that answer with pregnant or not pregnant. Well there was no denying that it said pregnant! I was in shock! We were planning on adopting a child!! We were so into the adoption process that I was sure that we would have been "matched" soon! But here I was staring at the word pregnant!!!
I went to the doc that Monday, and it was confirmed. I had to tell Wayne, I was completely in shock. Well if I was in shock....believe me...Wayne was in utter disbelief! I seriously thought he was going to pass out.
It was a long couple of weeks. We had ultrasounds every week to try and see the sac, then the fetal pole, then the heartbeat. Oh we had a heartbeat! We had passed our first loss. This baby had a heartbeat!! But Wayne and I did not rejoice just yet. We knew we had a bigger hurdle to overcome.

The next few weeks seemed to drag. Morning sickness was quite tough. I felt like moving my bed into the bathroom. I didn't really ever get "sick", but was always on the edge. Everyone told me that was the sign of a good healthy pregnancy...well I was hoping so.
We had an ultrasound with the specialist that had diagnosed Brennan's condition at about 13 weeks. Lets just say my nerves were shot. I didn't know how I was going to get through that appointment. But the scan started, and we saw the heartbeat, and we saw 2 arms and 2 legs! You cannot imagine the emotions I felt, seeing my child with arms and legs. Normal sized (for that age) arms and legs. Arms and legs that were the right length. What relief! In looking further it appeared everything was "normal". I left the appointment on cloud 9.
Several weeks later we returned to that office for our 20 week scan. I was still very nervous. There were many other things that could be wrong with this baby. I still was not ever confident that I could have a "healthy" child. But this baby was as healthy as could be. And this baby we found out was a BOY! Oh the look on Wayne's face. I wish I could have captured that moment on film, but it will be forever etched in my mind. I know he would have been VERY happy with a daughter, but I think the fact that he lost a son, and was now going to be given the privilege of raising a son was overwhelming to him. In those few moments, I could see him dreaming of the future....and it seemed like we really were going to finally have our dream. A son!!


We actually started preparing the baby;s room. We still didn't name the baby, that was too much at that point. But we knew the baby was a boy, so we picked a nice blue color...funny as the color was called Niagara Falls. We moved the computers into the smaller spare room, and now had this big room all painted fresh, and newly carpeted. We were really preparing....sort of.


As with all things in our lives, nothing comes without difficulty for us. My baby shower approached, and I was having severe apprehension. I was nervous about going to my baby shower. I think I still didn't believe this baby would come home with us. I was so afraid to bring all this "stuff" home and not bring home the baby. But the shower was nice. Our family and friend were extremely generous. I cannot believe how many items we received. But that scared us alot as well. For weeks we left all the items on the front porch. I couldn't bring myself to wash the clothes, or set up the crib.....it just wasn't the right time yet.
Well again, as with many times in my life, the good has to be followed with the horrible. The Tuesday after my baby shower, I went into preterm labor. 31 weeks and this baby decided it was time to come. There is no way I wanted this baby to come at 31 weeks. But I was bleeding so much, and I was dilating. I knew at 31 weeks this baby would need to fight to live. I didn't want my baby to have to fight to live, I wanted my baby to be healthy. I called my friend Erin, and just cried. At that point I had not even called Wayne yet. I needed that "practice call" because I didn't want to scare Wayne, even though I can assure you I was scared out of my mind.
When the doctor asked me if I had contacted Wayne yet, and I had said no, he said, well if you want him here for the delivery, you should get him here soon. Well that woke me up. I called Wayne, and he came right over. In the meantime I had to sign all sorts of consents. I was consenting to blood transfusions for me and the baby, I was consenting to c-sections, and any and all treatments for the baby. I met with the anesthesiologist, the NICU docs, pediatricians, high risk OB's, you name it, I talked to them. I had doctors WAITING to talk to me! (Go figure!). We got the first shot for the baby's lungs...and prayed to hold out for at least 24 more hours to get the second shot. My contractions were quite intense, but I didn't want anything for the pain. They offered me meds, but I didn't want anything, for the sake of the baby.
That night we settled on the name Hunter. We felt that the baby needed a name, in case he came overnight. Wayne stayed in the hospital with me that night, cramped on a crappy pull out cot...he slept as much as he could...as I was being checked on every hour. Thankfully we made it though that night, and I did get that 2nd Beta shot....now we wanted at least 24 more hours for it to be 100% effective....we made that milestone too!


Amazingly, we made it more days....and somehow, by the grace of God I made it to 32 weeks. I was released to strict bed rest at home....and we prayed for everyday I could remain pregnant. They said every day he stayed in me was 3 less in the NICU. And that place was scary to me. They have great docs there, but still, I would prefer Hunter never see the inside of the NICU if we could help it.
So I get home, and another love of my life came home too....our dog Lisa, who had stayed at my moms for the week. Lisa (for those who don't know) was the one thing that gave a smile when all was down. She seriously was the reason for my sanity some days. She knows what she did for me in my darkest days, and I can honestly say, she was my best friend. She knows more about me than most people....which is kinda scary to admit!
Well that night, another horrible thing happened. She had been home for about 4 hours, when she had several seizures. She had seizures in the past, so this was not something we didn't know how to deal with. Wayne scooped her up and rushed her to the ER vet (it was 11 at night at this time). I had to stay home. I had to think of Hunter. Wayne would take care of Lisa...I would see her soon.
An hour later Wayne came home and had to tell me the most horrible news. Lisa had passed away. My best friend was dead. I didn't know what to think...how could this happen? Never in a million years did I think we would lose her. She was everything to me. We did everything together. But I had to try to stay calm for Hunter's sake again. Here is my dearest Lisa..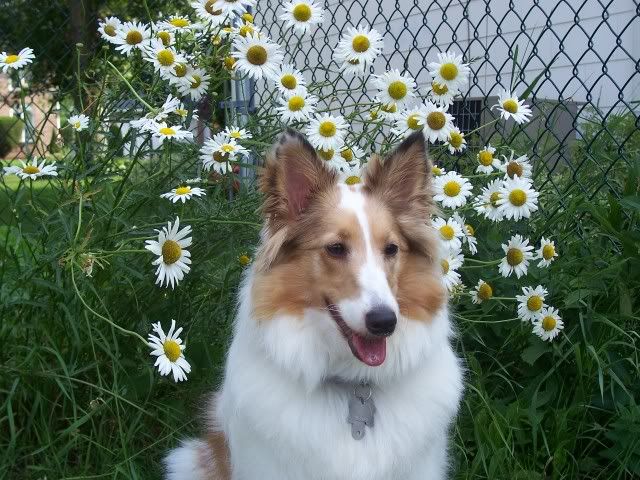 The next few weeks were spent going to the OB and having stress tests. Hunter never cooperated, always showed no reactivity in his heart rate, which always required us to have more ultrasounds done. I enjoyed seeing him every time, especially since the tech always said everything looked good. SO he was just a calm baby!!
Week after week passed, and somehow I got to 36 weeks! I was taken off the meds, and was told that if I could deliver safely at this point. SO we were ready! But it was Hunter that was now taking his sweet time!


At my normal stress test on Nov 5th, the contractions were of course quite intense...but that was nothing new. When the midwife checked me (again this was routine for my stress tests) she said I was dialed to 4...well...that was new!! And she said my water was "bulging". OK more new things....an hour later, I was determined to be definitely in LABOR! I was having this baby! Still in shock, I called Wayne. I don't think he believed me. I told him, I was not leaving the hospital pregnant, and to come over as I was almost 5 cm!! I still think he thought it was a false alarm until he got to the hospital and saw me hooked up to more monitors than usual and in a hospital gown. This was it!
My friend Erin came up to be with us. She is an amazing woman that unfortunately lost her son Jesse, at full term due to a cord accident. She knows the pain of losing a child, and in fact I met her through the support group I go to monthly. But Erin was blessed with Tyler, a beautiful baby that she had just this past June....so she knows that there can be prayers that are answered! Anyways, Wayne, Erin and I just hung out for the evening...the contraction were strong, but I had been having them all along, to me it wasn't too bad. I did ask for the epidural, figuring I had wanted one anyways, and when I got it, it was AMAZING. I did still feel them "on the inside", something that I cant explain, but seriously, I could still tell the docs when I was having each and every contraction. It was an intense pain, just a weird discomfort...hard to explain.
By 11:30pm I was fully dilated...and we were excited! But I didn't feel the urge to push, so we waited...and waited...and waited. By 2am I was still just hanging out...but then it happened. I got that "urge" and we started pushing....I have to say that was the hard part. I was having a little bit of trouble getting his head all the way out, and at the end his heart rate dropped a little bit. My doc...whom I LOVE, told me that I needed to "help the baby now"...that was his and my "code words" for when we were having trouble with the baby...I pushed as hard as I could, and 2 pushes later (with the help of a little snip snip) Hunter David was born into the world, on November 6th, 2007, screaming and crying at 2:47am!!! I could not believe it was my baby that I was listening to cry. I could not believe that I had a baby and that the baby was alive. It didn't seem possible.

That moment was so bittersweet. I was so overcome with joy for Hunter's safe entry into the world and at the same time was so mourning Brennan and missing him in ways I didn't think were possible. I hated that I had just delivered Hunter and could only think of Brennan, that was not fair to Hunter. But emotions are something you cannot control sometimes.
As I was being stitched up, I was amazed at how wonderful it was to look over at Wayne holding our son. The two were instantly bonding. I missed out on that TLC Baby Story moment of getting to hold Hunter as I had 3rd degree lacerations and tears along with an episitomy that needed to be repaired. Well I don't think whatever they give you to numb you down there was working, because I sure was feeling that pain. It was definitely worse than the actual delivery. I couldn't believe it, but just about an hour passed before I was even able to hold Hunter. I was all stitched up, and the doctors and nurses had all left, and it was just Wayne, Erin, Hunter and I. I couldn't believe a little over an hour ago he was inside me, and now he was here and he was OURS!

He really was a beautiful baby. He was very alert and just content to be warm and held. I had wanted to breastfeed him right away, but they came and told me that had to take him to the nursery. I guess that's protocol or something, that you have to let them go to the nursery to be monitored for a few hours and get a bath and watch their temperature. So with a heavy heart, I kissed him and told him I would be just down the hall and I would get him soon. They told me 3 to 4 hours....
I got a great shower, and then was moved to our room for the next few days. Wayne and I got a little rest, although the nurses kept coming in to check me and give me papers to sign and talk to me. I was so tired, I don't remember much of any of that time. But I do remember that at about 8am they brought me my beautiful baby and I was able to really seriously look at him. He was amazing! I got a nurse to help kinda teach me how to try and breastfeed him. OK THAT hurt....the first couple of times he didn't have anything close to a good latch on, and he really gave me some serious blisters! But I was determined to make it work, so I just kept at it....thankfully he was a fast learner and the lactation people at the hospital were nothing short of amazing in teaching me how to do it.
The next few days are quite a blur. We had many friends and family coming in and out to meet our son. It was really nice to see everyone, but it was very exhausting. I was in quite a bit of pain in the nether region, and didn't sit anywhere without my egg crate cushion. I am sure that looked cute! Getting into my own clothes made me feel more human also.
Wayne was amazing. He took care of coming home to get some last minute things set up. As we had no clue this was going to be "it", we still had the bassinet on the porch, and needed just a few minor things done such as vacuuming and grocery shopping. Wayne came home and did that, and I think he might have even done some laundry and caught a quick cat nap! This gave me some time to just be alone in the room with Hunter and be with my thoughts. It was in those quiet moments that the reality of the situation hit me and I cried and cried. They were all happy tears, I was a MOM! I was a MOM!
We came home from the hospital on Thursday November 8th, and it was really quite nice. Our next door neighbor stopped over to see Hunter, and that was nice. She had followed my pregnancy almost as closely as I had!! She really seemed very happy for us, and then we just sat down and realized how life would never be the same in our house. Wayne sat up in Hunter's room with him, just holding him in the rocking chair and I took videos, I wanted to capture as much on film as I possibly could. I didn't want to forget any of these moments.
Friday was spent with family and friends stopping by to see us. It was nice, but everyone thought I was neurotic making everyone wash their hands before they could touch Hunter. I had several types of soaps available, so no one could complain. He was so small I didn't want anyone to get him sick.
Then on Saturday, I didn't feel well. I cant explain what it was, I just felt a bit off. I was lightheaded, then I would have a splitting headache, and then I was nauseous. I took my blood pressure and realized that something must be wrong with the machine because it was reading 180/110. Surely that was not accurate. SO I tried the other arm. 182/110. I figured something was just wrong, so I got a glass of water, and took it about 15 minutes later. 176/100. This made me nervous and I called the doc which landed me in the ER for the rest of the day being monitored. All in all I was released with the diagnosis of post-partum pre-eclampsia. I didn't know there was such a thing, but apparently there is. I was told to go home and rest...um HELLO....I had a baby 5 days earlier!!! Thankfully with just relaxation (as much as I can fit in) I have felt better. The blood pressure is still high, but we are not medicating at all.
OK I am posting this now and will continue later in the week.