Louisa
Delivered by C- Section
Wednesday,
September 12, 2007
12:34 PM
7 lbs 15 oz; 19"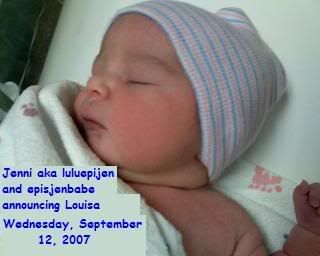 Wednesday, September 12, 2007
5:30AM -- Gone in to Labor and Delivery for planned C-Section 1st to start on IV fluids and Antibiotics. Antibiotics were to treat the Group B Strep bacteria I carried. Also planned C-Section was because Louisa head wasn't turned down either.
11:34AM -- Well being passed 11:30 AM the Epidural was prepped before heading into C-Section
12:34PM -- Baby Louisa delivered by C-Section 38w 1d. Dr. I seen done the C-Section Delivery. She took out the scar from 1st C-Section, done a mini tummy tuck and new incision was made. Just when about 2 years my 1st scar really been healing up I'll have a fresh new 1st  scar. Ah well.
2 Hrs after being in the recovery room I was taken up to my new room. What matters most is baby Louisa born very healthy.
2 Day in new room recovering I've been checking out to be doing really well myself, too. Walking around the wing and downstairs a bit. But things still bother me but not too bad. They are cramping, not passing gas, a hemorrhoid and sinus infection drying up.