Trey and Bella's Story
This is Trey on his "Birth Day"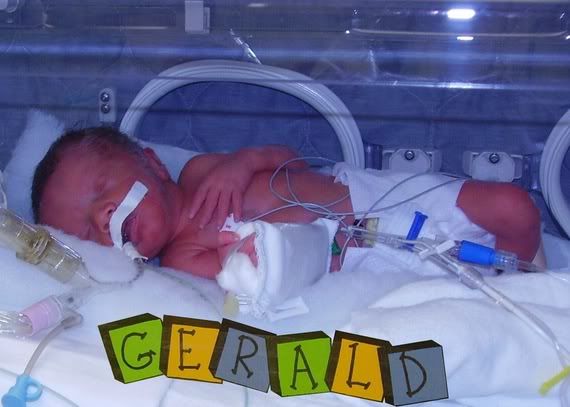 This is Bella on her "Birth Day"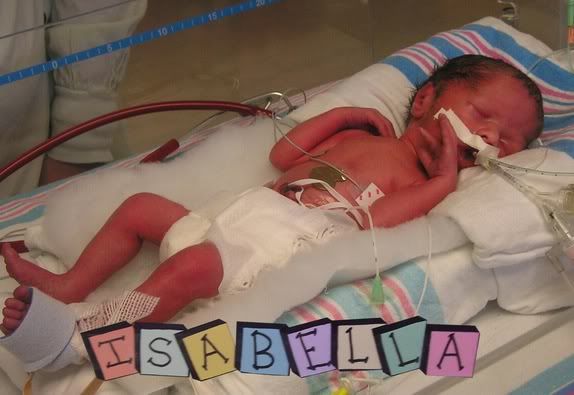 These are Trey and Bella at age 1!

This idea that was suggested inspired me to write out Trey and Bella's story from conception to birth so that I can share it with them when they become parents. Rather than retype some, I am posting the whole thing here. Please feel free to read the whole thing or skip to the bottom where the actual "birth story" is!
Trey and Bella's web site is www.treyandbella.com if anyone is interested!
Mommy and Daddy met in August of 1995, began dating in September of 1995, got engaged in November of 1999 and finally got married on June 15, 2002! Mommy and Daddy began trying to conceive in February of 2003, predicting that it would be difficult since Mommy had no menstrual cycle. The Doctors put Mommy on a medication called provera to bring on her cycle, and would need to do this every time she needed to have one. This was particularly difficult since Mommy never knew if she was pregnant or not since there was never a period to tell her she wasn't pregnant. Just lots of BFNs and lots of tears. The doctors discovered that Mommy did not ovulate, so prescribed a medication called Clomid in February of 2004. Mommy and Daddy tried to conceive with Clomid for 6 months, increasing the dosage as much as possible. It only made Mommy ovulate for 2 of the cycles.
Mommy and Daddy began seeing a Reproductive Endocrinologist in July of 2004. The RE did some testing and discovered that on top of Mommy's lack of ovulation, Daddy's sperm had low motility and low morphology even though he had a very high count. This means, they didn't always swim in the correct direction and were not always shaped correctly (some had 2 heads or 2 tails). These less then perfect specimens would never be able to produce a baby. To increases our odds on both sides, Mommy and Daddy decided along with the RE to move to injectable fertility medications, including Follistim and a drug to release the growing follicles, along with intrauterine insemination. We did 2 cycles like this. The first was in late August/early September, resulting in a BFN. The second, in late October/early November, did not result in a pregnancy, but rather in over stimulated, very painful ovaries!
We began our in vitro fertilization process in November of 2004. Since the IVF lab closed over Christmas, and the process took about 2 months, we had to wait until the new year to begin. Mommy began protocol of 21 days of BCP on January 3, 2005. Daily Lupron injections began on January 19, 2005. Hot flashes kicked in on January 25th! Mommy began another daily injection – Follistim – on February 7, 2005. By February 15, 2006, there were 31 follicles! On February 16, Mommy had an egg retrieval and 14 eggs were removed! The embryologist performed ICSI (injected the sperm directly into the eggs) on 7 eggs and 6 fertilized. One egg was cracked and the remaining 6 were put in vials with some sperm and all fertilized. This meant there were 12 fertilized eggs growing!!!! Two more daily injections began, one of February 17th (progesterone, which I would take until 14 weeks pregnant) and one on the 18th (Medrol) to prepare Mommy's body to accept the fertilized eggs. Daddy left for a business trip on February 18th, so Grandmom went with Mommy on February 19th to have two embryos implanted. On February 28, 2005, Mommy got a BFP on a home pregnancy test!!!! Morning sickness kicked in on March 2nd, the very same day my blood test showed and HCG level of 148, high but not too high. By March 4th, my HCG had more than doubled to 339 and then went to 1003 by March 7th, which is a great sign since its supposed to double every 3-4 days. By the 10th, it was 3672, and then skyrocketed to 28194 by the 14th of March, a sign that there were multiple babies growing inside!!!!
Mommy and Daddy had their first ultrasound on March 18, 2005 and found out there were two precious babies growing inside. The heartbeats were music to our ears! Our due date was set at November 9, 2005! Mommy and Daddy were walking around on cloud 9!
Unfortunately, our pregnancy was not an uneventful one! On March 21, Mommy began having severe pains and went to the RE's office. He believed it was one of three things: kidney stone, appendix bursting or the extremely rare case of the ovaries twisting around the fallopian tubes. Mommy was rushed to the Emergency Room and then into exploratory laparoscopic surgery to find out that is was the right ovary twisted around the fallopian tube. This was followed by a week of bed rest at home. Before the week was over, Mommy began to bleed severely on March 27, 2005. It appeared as though a miscarriage might be inevitable. We were very lucky to see two healthy babies on ultrasound the next day. The bleeding was coming from a sub-chorionic hematoma in Mommy's uterus, which was larger in size than the babies. Another week of bed rest was in order.
Mommy was able to return to work when she was 8 weeks pregnant. By 9 weeks, the hematoma was nearly gone and Mommy "graduated" from the Fertility Doctor's Care (RE) to the care of her OB, who happens to specialize in high-risk pregnancies. The plan was to take Mommy out of work at 28 weeks since they were expecting the babies to arrive between 28 and 35 weeks.
Alas, this plan was not to be! Mommy started bleeding again when she was 12 weeks pregnant on April 27, 2005. We rushed to the ER immediately. No reason could be found at this time, so Mommy was put on bed rest. Mommy was able to stop taking her progesterone injections at 12 weeks (bleeding to continue until 20 weeks) and her progesterone suppositories at 14 weeks.
May 8th was a glorious day, as Mommy felt the babies move inside! What a wonderful Mother's Day! On May 29th, the OB let Mommy go to the baby furniture store in a wheel chair to pick out furniture! It was fun! Mommy and Daddy chose beautiful cherry wood cribs and dressers.
At 17 weeks, we had our first visit with the perinatologist, and found out we were having a BOY and a GIRL!!!! Mommy and Daddy were thrilled. Also, the reason for the bleeding was finally found – another subchorionic hematoma!
At our 20-week appointment with the Perinatologist, we got some very bad news. Mommy was already contracting and her cervix was funneling (opening from the inside out). Mommy is no longer allowed to sit up. Two days later, Mommy was in Labor and Delivery having contractions. The Doctor was able to stop them and sent Mommy home on Procardia. Less than 36 hours after than, we were back in Labor and Delivery and the contractions could not be stopped. Mommy was given Terbuteline injections and Indocin and admitted to the Ante-partum unit, which would be her new home until the babies were born. Terbuteline would be given every 6 hours around the clock and Indocin every 12 hours, but of course not at the same time!
By the next day, July 5, Mommy was 1 centimeter dilated and her cervix was only 1 centimeter in length.
At 24 weeks, a Fetal Fibronectin Test indicated that Mommy would deliver the twins within 2 weeks time. This is not good news, as the survival rate at this early gestation is minimal. Mommy met with the NICU doctor, who only gave them about a 10-20 percent chance of living if born this week. By 25 weeks, Mommy's cervix was fully effaced and fully dilated. Mommy is no longer allowed to shower and her bed was tilted so her feet were way above her head! Mommy and Daddy chose the babies names in case they made their debut. Mommy also missed her baby shower this week, so Daddy and the Grandmothers brought all of the gifts to the hospital for Mommy to open!
When Mommy made it to 26 weeks, she proved that they FFn test was a false positive and speculation began that Mommy may have a dynamic cervix (one that opens and closes at will) but we will never know for certain because the Doctors cannot check for fear of breaking Mommy's water.
At 27 weeks the babies' fluid level was dangerously low, so Mommy was taken off Indocin for a few days. The contractions increased dramatically and more injections were needed. At 28 weeks, Mommy was put back on Indocin. By 30 weeks, the fluid was low again, and back off it we went since it would begin causing the babies' kidneys' to be at risk. On September 1, contractions increased severely and Mommy was given more injections of Terbrutline until they were under control. On September 2, Mommy spoke with the NICU doctor was told Mommy that though it was risky to deliver now; the babies had a fairly good chance of surviving.
By 9pm on September 3, 2005, the contractions were fast and strong and Mommy was moved to Labor and Delivery and put on a Magnesium Sulfate Drip as a last ditch effort to stop the birth. The OB was called in by midnight since it was doing nothing!
The next thing Mommy knew, Daddy was in scrubs and Mommy was in the OR lying on her side. The anesthesiologist could not get the spinal in after MANY tries (Mommy had over 20 holes in her back). Mommy's leg started to spasm and she started to cry and the OB began screaming at the anesthesiologist to put Mommy to sleep. Mommy asked for Daddy to come in so they let him see her for a few seconds then made him leave while they put Mommy to sleep.
As soon as they put the oxygen mask on Mommy, she felt like she couldn't breathe and started to have a panic attack (this has never happened before when getting general anesthesia). The last thing Mommy remembers is my OB screaming at the anesthesiologist to get Mommy to sleep now.
When Mommy woke up in recovery, Daddy was there and told Mommy that the babies were beautiful and were doing fine. Mommy found out that Daddy did not get to see them being born since Mommy was asleep (due to the intubation and general anthesia). Mommy was upset that neither of us got to experience this, but was very glad that they let Daddy go with the babies to the NICU immediately. Grandmom and Aunt Danielle were allowed into recovery to see Mommy and then Mommy was taken to the NICU on the stretcher to see the beautiful babies before she was taken to her room. It was a very stressful experience, but it was all worth it.
Mommy and Daddy welcomed their new babies into the world on September 4, 2005 at 30 weeks and 4 days gestation!
Gerald Charles Damico, III came into the world at 1:47 am. He weighed 3 pounds and 4 1/2 ounces. He was 16 inches long. Mommy and Daddy have decided to call him Trey (which is three in Italian since he is the third).
Isabella Christine Damico came into the work at 1:49 am. She weighed 2 pounds and 14 1/2 ounces. She was 14 1/2 inches long. Mommy and Daddy have decided to call her Bella.
The next day, Mommy woke up with a spinal head ache (NOT FUN). The solution to this is to have an epidural put in and to have blood from your arm put into your dural space to clot. Mommy did not want to be stuck again, so she declined this for three days. It then got so bad, that she had the procedure on Wednesday night. It was like a miracle. The headache was GONE IMMEDIATELY. It was like heaven!
Trey and Bella were on ventilators for a few days, then c-paps, then Vapotherm. They were both feed Mommy's milk via a tube in their mouths or noses until they developed the sucking reflex. They were both under photo therapy lights for jaundice for a few days. Trey had some eating problems with reflux so his feeding was put on a pump. Isabella developed a bad infection when she was 8 days old and we were told she might not make it. Mommy cried for days until Bella was better (thanks to lots of prayers and very strong antibiotics). Bella also had a hole in her heart (the ductus) which closed on its own by the time she was 6 months old.
Trey and Bella first nursed when they were about 3 weeks old, and when they were 24 days old; they both graduated from their isolettes and were moved into a special twin crib where they cuddled up together!
After many ups and downs, Gerald and Isabella came home with Mommy and Daddy on October 16, 2005 at six weeks old!
Trey and Bella are now precocious one year olds who like to climb steps, walk behind push toys, and eat grown up food! They love to talk and try to imitate Mommy and Daddy. They love playing with their puppies Cara and Mia too!
This has been the most amazing year of Mommy and Daddy's lives!
UPDATE - TWO YEARS OLD!
Trey and Bella are doing great! They have learned so much in the past year and are both growing up so fast!
Let's see! What are we up to now...
They were released from the NICU Developmental Follow-Up Program, as they are ahead of most two year olds!
They self-weaned from nursing at 18 months
They are both speaking in full sentences
Potty Training is going so-so. There are weeks that they go on the potty 100% of the time and weeks where they have lots of accidents.
Trey is sleeping a lot better and Bella still loves to sleep! Neither likes to go to bed though and they whine about it!
Bella is the boss! She dresses herself from head to toe and insists on picking out all of her own clothes! She can throw a fit with the best of them!
Trey still loves all things electrical and always wants to help! He loves to tell mommy "No" when he doesn't like something!
They both love Dora and Diego, and of course all things Disney
They are learning how to ride tricycles
They are both doing well at Gymnastics, taking classes once a week