I had another previa check today and got some pretty good news. My previa has not clear yet. But it has moved 1cm in the past 3 weeks. It is now 1cm away at the closest and mostly 2+cm. I have one last check in 2 weeks at 38w. In the meantime, I met with an obstetrician. He has yet to go over the u/s and talk with the MFM specialist, but barring any surprises when he sees it, he is fine with me attempting a vaginal delivery (likely with an IV and possibly an epidural in place in case I hemorrhage and need an emergency c/s). I'll be talking more with him tomorrow about the plan, and we'll confirm it after the next u/s. My cervix is still 3.75cm, so nobody is particularly worried about labor any time soon. Heck, I may even go over.

Baby is estimated at 5lb14oz and they gave us a cute 3-D picture of him resting his face on his arm.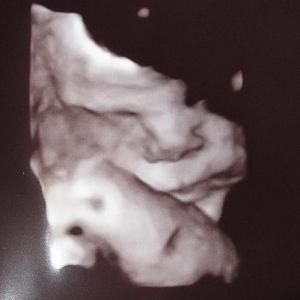 The doctor actually called attempting a vaginal delivery with a posterior marginal placenta previa "a no-brainer". He's also on board for the "natural c-section" (with me watching the delivery, delivering the baby slowly, and giving baby right to me) if a c/s is necessary but the situation allows a few extra minutes.