I keep trying to start this story, and I feel so elated, yet so scattered. It's like I am not sure where to start. I guess, this story really began years ago. Our oldest, Sylvia, was born on December 18, 2008 via emergency cesarean. I was under general anesthesia, and we both had a life-threatening infection called chorioamnionitis. The recovery was brutal, and I had no support or follow-up from my provider other than the six week postpartum visit. I don't even know who the doctor was who delivered her. My husband left back for Iraq just a day after she came home from the NICU. I was in a dark place for a long time afterwards. Over time I got my medical records, and began to accept the fact that the cesarean was very necessary. But my care could have been different and much more compassionate. Our second child Justus was born on September 17, 2010 by cesarean at 42 weeks gestation. My husband was deployed once again, this time to Afghanistan. We planned a home birth since I knew I wouldn't have him there to advocate for me and I labored for 48 hours at home. I was 9.5 cm and had been pushing for nearly 8 hours on an anterior cervical lip when we transferred in. He was posterior, asynclitic, and had the cord wrapped 3 times around his neck. While the cesarean definitely wasn't a desired outcome, I felt much better about it because I had done everything I could have. I had done everything right, and I learned a lot about myself in those 48 hours. Our third child Bunni entered the world on May 11, 2012 caught by her daddy in the hospital. We had received care from an absolutely fantastic OB named Dr. Glen Elrod in Wasilla, Alaska. This birth taught me finally to let go. Everything will be as it is meant to be. She taught me patience, and quiet acceptance. I did not go into labor until 42 weeks and 6 days gestation. Once my water broke, I was complete within 6 hours. The drive and then admittance into the hospital was extremely stressful to me. Though we got the vba2c that we so desperately desired, there was still something missing and I knew I would not have another baby in a hospital unless there was a true medical need.
We planned to have another child and let nature take its course. In January 2013 we moved with the Army to Ft. Campbell, KY. It wasn't long after that I found out I was pregnant, just 9 months after having our last baby. We bought our home, and I admit, I did consider where we would live based on where I would be able to have our baby at home. Certified Professional Midwives are not recognized in Kentucky, but very much accepted in Tennessee. I found out that Blanchfield Army Community Hospital and Gateway Medical Center (the two closest hospitals) would not accept me unless I scheduled a repeat cesarean, despite the fact that I had already had an uneventful vba2c. The closest hospital that would "allow" me a "trial of labor" (I loathe that term by the way) was Vanderbilt. They would require me to sign a consent to continuous fetal monitoring before accepting me as a patient. I also was very familiar with the pressure a hospital would put on me once my due date came and went. It just was not an option in my mind this time to birth in the hospital. Surprisingly, I found several options for midwifery care. It was legal, we could have an hba2c, and it quickly became the most logical choice. I talked to a couple of midwives and corresponded with The Farm. Everyone agreed that I sounded like a good hba2c candidate.
I found Sheryl Shafer. I knew she was "the one" when we met for the first time and she asked me the hard questions. We talked about the things that nobody wants to talk about. What if something catastrophic happened? Then, I would need her loving support more than ever, something I knew I would never get from a busy hospital or practice. Was I on a time-table? I was fully prepared to fudge my last cycle dates if need be, but she assured me I would not have any sort of due date countdown as long as we were both healthy. She asked if I was uncomfortable with my weight. She did not seem concerned about it, but she had picked up on the fact that I was, so she suggested Eat to Live by Dr. Joel Fuhrman. Though it is extremely difficult for me to let people in, an honest, trusting, and gentle relationship began to form from that very moment. Throughout the pregnancy we would chat. She would talk to me as an equal, share birth stories, and instill confidence at each prenatal. I found her care and philosophies to be the perfect combination of holistic and realistic. There is a time and place for alternative therapy, as well as a time and place for medicine.
So I followed the Eat to Live program for a few weeks and lost about 15 pounds. The baby was growing just fine. Sheryl referred me to an awesome ultrasonographer, Roy Chamberlain. He was a breath of fresh air, and I knew he would give me unbiased, evidence based information. That was important to me if it came down to needing to do biophysical profiles once I hit 42 weeks. We paid out of pocket for two ultrasounds in his home. My due date based on my last cycle was November 5th, and a dating ultrasound estimated November 7th. At my 20 week anatomy scan we got November 11th, so that's the date we went with on paper.
I had my usual, completely uneventful pregnancy. No morning sickness that a little peppermint essential oil didn't cure. I never had a high blood pressure, or any other sign of complications. I measured a few weeks ahead, but none of us suspected a big baby by any means. I saw Dr. Laura Coleman at Care Chiropractic for the entire pregnancy. I work in real estate and kept myself very busy all the way to the end. In fact, I was out and about making selections with a client at 41 weeks and 4 days pregnant. The time flew by and I never really felt like I was past my due date or more than about 36 weeks pregnant.
November 15: "On a good note, I was up about 5:30 with ctx every 3-4 mins. No mucus or anything and they've slowed down a bit since my littles are up and about, but still coming. I fully expect them to stop at some point today, but maybe gearing up for the next couple days???" This was the day that I went out to make selections on a home with one of my clients. By the end of the afternoon I told my husband that I had a few "warning contractions" that I believed were telling me to stay closer to home. They were a good intensity but never regular or more frequent.
November 16: "What the heck is going on? Had the ctx night before last. They picked up again last night. Then about 1 am got to every 2-3 mins and lasting a minute and 20 seconds or so. I took a bath and really wanted to sleep so thankfully they spaced out. Now I've been having about one contraction every 20 minutes to an hour but the intensity is crazy have-to-work-through-it style. They are so far apart but so intense when they do hit. Anybody had this happen before? I'll take it since I know each one has got to be doing major work. But this weird non-pattern with really hard, long contraction is foreign to me! Still no mucus or show." Those slowed down too, and throughout the day I went several hours with nothing, then a contraction or two, and then back to nothing again.
November 17: "Had just a little bit of pinkish show this morning. Was in and out of sleep from about 3-7 am with contractions 10-13 minutes apart. Intensity has picked up, need to breathe through but have spaced out again. On a side note, has anyone tried the Anne Frye method of measuring dilation by fundal height during a contraction?" Around mid-afternoon I lost my mucus plug which was a bit brown, pink, and clear, but then did not have any more mucus at all after that. I tried the fundal height measurement of dilation, and at the peak of the contraction I could get 2.5 finger breadths between my fundus and breastbone. According to the chart, that would have put me at about 5 cm. In hindsight, it was probably pretty accurate, but I didn't believe it at the time. Contractions were all over the place, and most were 40 mins to an hour apart. I was feeling some discomfort but it just felt like the baby moving over my cervix which is pretty common for so late in the pregnancy. I rested and didn't do much of anything.
Later in the evening, I remember telling John that I just felt uncomfortable. I do not recall feeling a lot of contractions, no more mucus, but just a low, bloated, uncomfortable feeling. I ate a big dinner of peppers, potatoes, onions, and smoked sausage, and then sat around until around 9 pm. It seemed like contractions were coming more frequently, but still incredibly far apart and irregular... 15 minutes, 25 minutes... etc. I got in the bath honestly hoping they would stop so that I could go to sleep. I was tired and discouraged. They came a little closer in the bath but the intensity had let way up. It was more like just a tightening similar to Braxton hicks. At 10:00 I texted Donna and told her I was getting discouraged. She said maybe if I got some rest everything would kick in. They were coming closer now, but no intensity and they were very short. They were maybe lasting 30 seconds. I told myself I would call Sheryl if they got to 7 minutes apart. I might have 3 really mild ones, and then one I had to breath through. At 10:45 I texted my mom and Sheryl that I was going to go to sleep. I may have dozed off in between a couple, but it wasn't long before I found myself wanting to jump up out of the bed when I could feel the tightening begin. I woke John up and even though the pattern was very erratic and the contractions were really short in length, I had the feeling we needed to call Sheryl. At that very same moment as he called her, a text came in from her. "Are you ready to call this active labor? Are you ready for me to come?" Talk about a midwife's sixth sense! She had only been home a couple of hours from a very long weekend of births, must have gotten an hour or so of rest and woke up to see if I needed her. At 11:18 John asked her to come.
Our mattress is on the floor, so I alternated between leaning forward on it in a frog-leg position, getting into the bed and leaning over the birth ball, and standing and leaning against the dresser. I also felt like I had to pee between every contraction. I rode some out on the toilet. That's when the vocalizing started. Still 7 minutes, 12 minutes, 3 minutes, 6 minutes... At one point I stood there next to the bed looking at it longingly. I almost cried because I just wanted to lay down and go to sleep. I went to the bathroom again and told John I thought I was going to throw up. In between bathroom breaks and contractions, I helped him get the liner in the pool. He got the hose attached and began filling it with warm water. We used peppermint essential oil for my nausea and that helped a lot! It held me off for several more contractions. "Push on my back. No, don't push, not that hard!" He's literally got his hands softly laid on my lower back. My stomach got upset and I kicked him out of the bathroom. Then I really did have to puke. But it was more just heaves and didn't last long. I looked myself dead in the face in the mirror and thought "I can't do this. Those are 'transition thoughts'. If I go to the hospital, I won't have time for pain meds anyways." And then cried about 2 tears before the next one rocked me.
Eventually I came out of the bathroom and our photographer, Faith Doggett of Faith Doggett Photography, was there. 11:55 PM. I took one look at her, stripped off all of my clothes and went to get into the tub. Nope, not going to happen, another contraction. I moaned through leaning against the dresser and then knew I needed to move fast to get in before the next one hit. Now they were coming right on top of each other, but only lasting 20-30 seconds. I slipped into the heavenly warmth of the water, and sat back.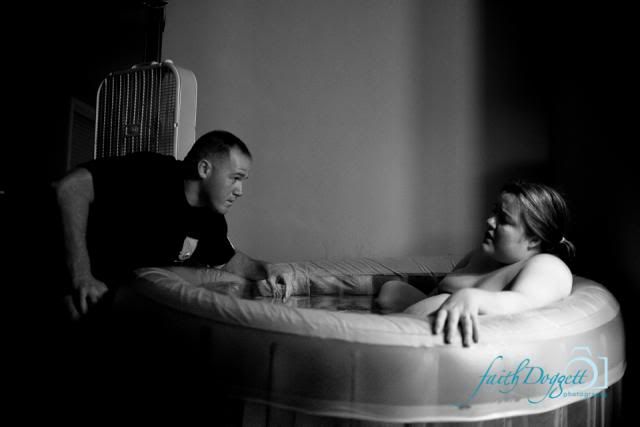 Not for long! The contraction came and no way was I going to sit like that. I flung myself forward, to my husband kneeling outside the birth pool.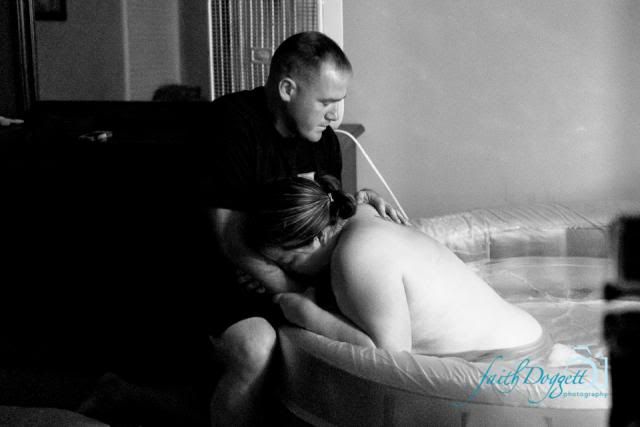 I grabbed onto his right arm with both hands and held on for dear life. "I think I am puuuuuuuuuushing."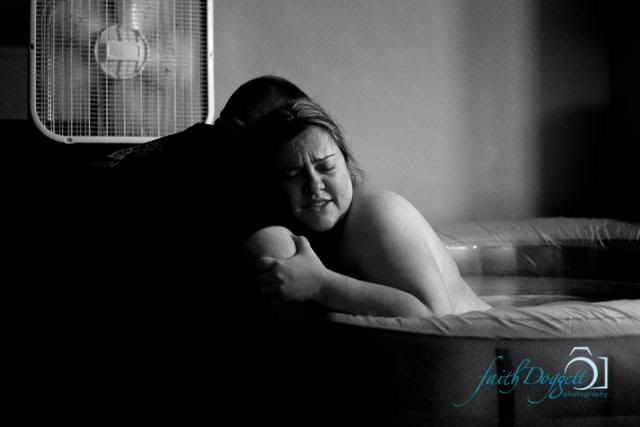 Yep, I was pushing but I couldn't believe it. I had no idea I had stepped out of the bathroom, and into the tub to start pushing. 30 seconds in between, and 20-30 seconds of pushing. That's the way it went the whole time.
After a couple of pushing contractions I felt a slight burn. My doula side says to myself, "Stinging, that only happens during crowning. I'm not that far along. No way!" I am not able to voice my thoughts but I see our photographer pacing back and forth from the living room back into our room. She's looking for our midwives. Then she goes around to my back and bends low. I know she's trying to see if baby is coming. I'm working hard and look straight into the camera lens begging her with my eyes. I don't know what for, but surely she can do something? Finally I catch hold of a few words, "WHERE. THE HELL. IS SHERYL. AND DONNA?!" Nobody has an answer... They are coming. Should be here soon. I feel like I have to poop. Doula side says, "You don't have to poop, baby is coming." No way is the baby coming already, I don't believe it. It's only been a few minutes. Every pushing contraction I hold John. He's my anchor. I hear him whisper, "They can't be stronger than you because they are you."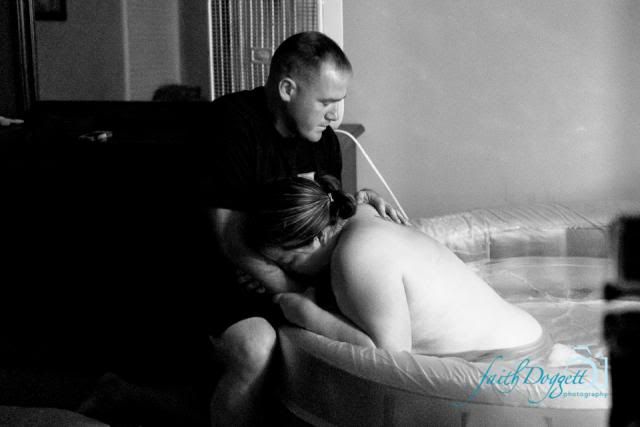 Yes, that's right, they are me. Here we go again!
All of a sudden, sweet relief. "It's out! I think it's out!" I reach into the water for the baby. It's like a little baby in a bubble. "The baby's born in the caul. The baby's born in the caul. Ohhhh, get it off. Get it off. Ahhhhh baby, ahhhh baby, ahhhh baby. I JUST HAD OUR BABYYY!"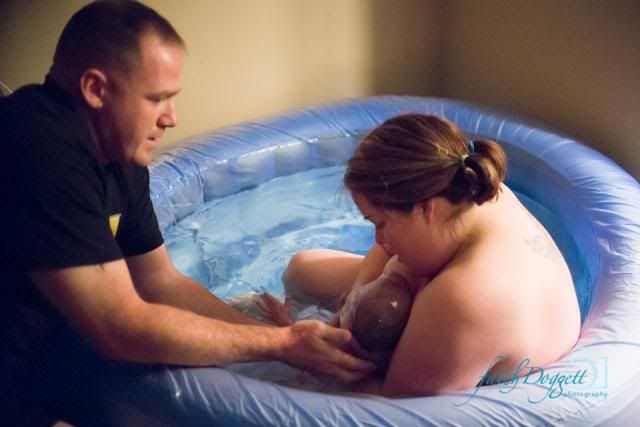 In the light of a full moon, on November 18th at 12:14 a.m. Calista Marie was born in the caul with only my husband and photographer present. An uba2c. I had her less than an hour after I had called my midwife, and just 9 minutes after our photographer snapped her first shot. She had the cord around her neck. It wasn't tight on her, but I could feel it pulling the placenta, and that was the only moment through the whole process that I got anxious. I stood up quickly trying to maneuver her. My brain wasn't functioning, but instincts kicked in. With John and Faith's help we got her untangled and back snuggly in my arms.
Shortly after, our midwife Donna walked in. I was still in utter shock. In such a loving and motherly way she asks "Did you cut the cord or anything yet?" I look at her dumbfounded... "Huh?" I just had our baby. That's all I am able to process.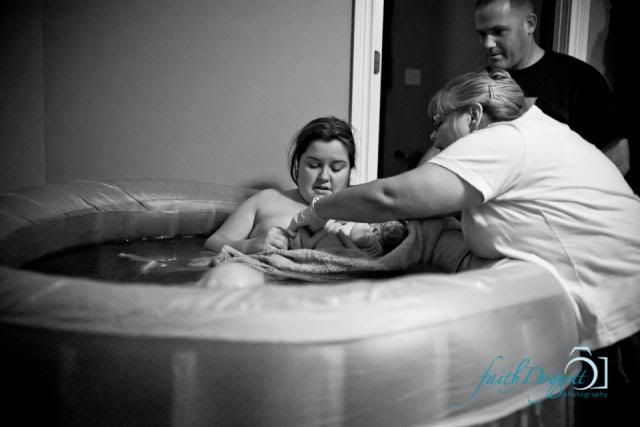 It wasn't long after that Sheryl arrived as well. Donna had me on the toilet delivering the placenta, and that truly was the only time I felt like getting violent haha! But she is such a beautiful soul that I kept my obscenities to a minimum and apologized profusely after each one. It is amazing how you can push a nearly 8 lb baby out of there and then a soft, fluffy placenta hurts so bad! Once it was out, I felt golden! They checked me and baby, got me into a warm bath, cleaned everything up, and fed me. I did tear and needed some stitches. Sheryl graciously allowed me to wait until I was ready. When I gave her the go ahead, it didn't take long until she was finished and we were snuggled warmly into bed together as a family. You couldn't even tell that our baby had been born just a short time before in our bedroom. A dream come true!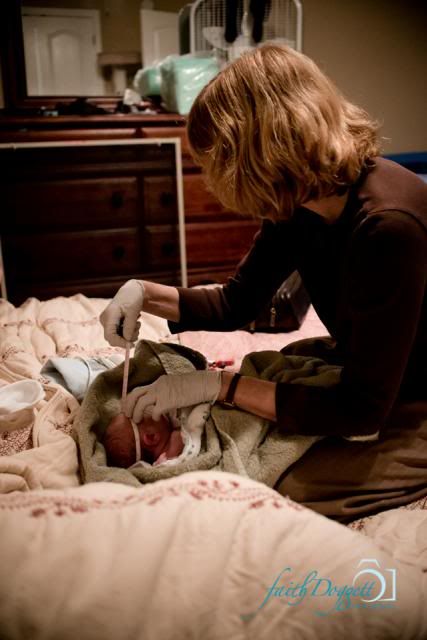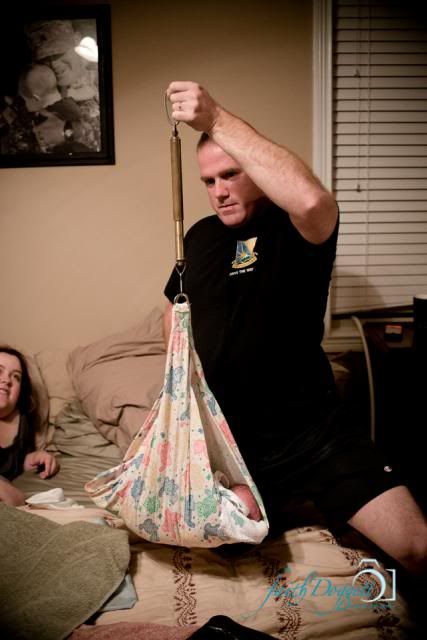 Calista's birth was the most amazing experience of my life. "Powerful" is the only word I have for it. I felt as though the power of the universe coursed through me with each push. I felt like my whole awareness and being expanded as she unfolded into the world. I felt as if I would burst with love for her, for my husband, and for our other children. The births of older three were life-changing and miraculous, but I feel like I was born that day with Calista. Her birth shined a light on all of us, and something changed between my husband and I. It's hard to explain, but our bond strengthened during those moments and I feel like our souls connected. I believe Calista is our last baby, but I know this birth will effect our 3 girls, and their children to come as well. From cesarean under general anesthesia, to planned home birth turned repeat cesarean, to hospital vaginal birth after 2 cesareans, and finally an unassisted birth after 2 cesareans, our home and our hearts are full!
"Don't lose your way
with each passing day
You've come so far
Don't throw it away
Live believing
Dreams are for weaving
Wonders are waiting to start
Live your story
Faith, hope and glory
Hold to the truth in your heart
If we hold on together
I know our dreams will never die
Dreams see us through to forever
Where clouds roll by, for you and I"
If We Hold On Together performed by Diana Ross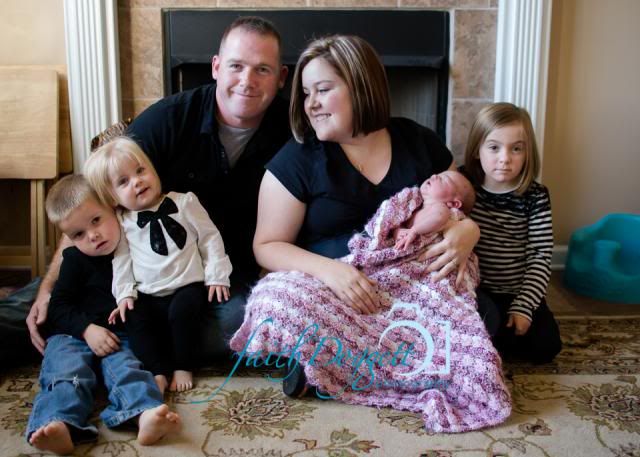 Faith's Blog and Slideshow (with brief video) can be viewed here: The Birth of Calista