Hey everyone,
I was just barely here last summer...I was due in August 2012 and had my baby boy (child #4) 5 days early on August 17th. It took me a while to type up my birth story but I eventually did. A quick refresher...my pregnancy went well until the end where my baby flipped breech and stayed that way. It caused a lot of stress and anxiety for me because they said that if he didn't flip back around I would have to have a c section. All of my labors/births up to that point had all been 100% natural without any pain interventions...and I wanted to do the same with this baby. Luckily my cousin who is a midwife, helped me manually flip him down 1 week before he was born. He stayed that way and then I went into labor with him the next week. The labor itself was very difficult also because he was sunny side up and because of that it caused awful back labor in addition to the front contractions...but eventually we got him to turn and he dropped down and I was finally able to push his out. He was my biggest baby at almost 9 lbs...8 lbs 13 oz. to be exact but we are so happy to have him in our family. He is almost 10 months old now and such a sweetheart...
This is a few months old but here is a collage of our #4...our sweet baby boy...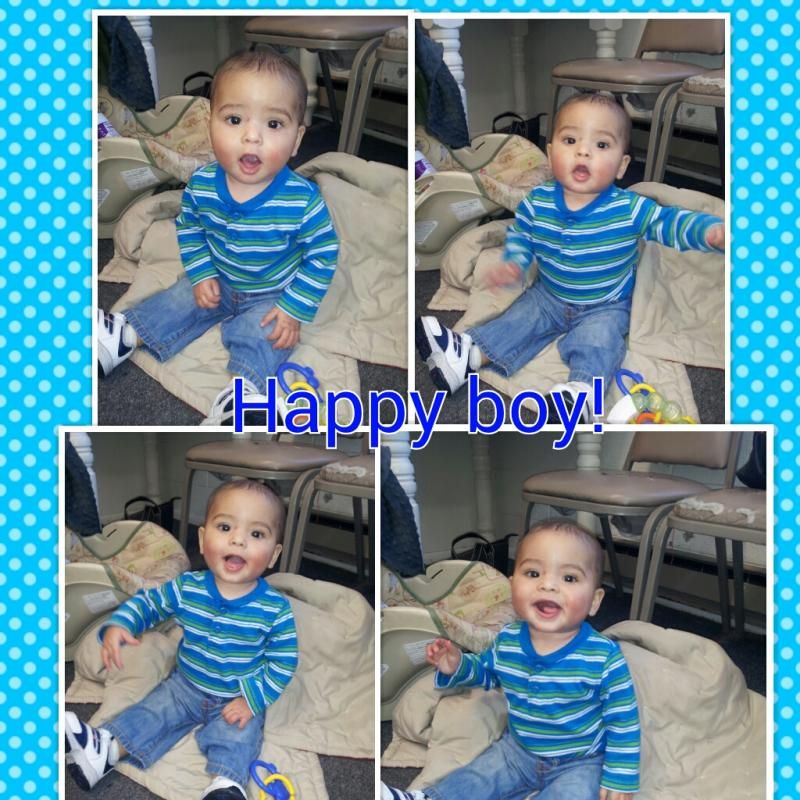 On to my next story/news...the day before Memorial Day just barely...so May 26th I felt really nauseated. This hit me out of nowhere and I was very surprised what it could be. I had a thought and we had a few tests on hand so I just took one without DH knowing what I was doing or how I was feeling. I thought for sure it would be negative.
Another quick back story before I continue...DH has been pretty adamant that we be done having kids. I wanted at least 1 more but he felt like our last son was the last one and he wanted me to get an IUD eventually. This past 9+ months we haven't been using any protection because we figured the chances of me getting pregnant while breastfeeding were slim especially since I didn't have any periods and usually don't get my first one until the baby is 1 year old. Obviously there was the chance, but we didn't think it would happen. The reason we didn't get the IUD right away is because we had a lot of hospital bills we were paying right after the baby was born...I had gone in to the hospital when I was almost 30 weeks pregnant back in June of last year with a kidney infection and was there for 2+ days...then we had the baby in August...so we had a lot of bills we were paying. The IUD was just more money so we decided to wait a bit until we could afford it again. I was literally planning on going in this week to get the IUD put in....I was hoping that I would eventually be able to talk DH into letting us have one more, but I had no guarantee he would agree.
So back to May 26th...Sunday morning...I go into the bathroom and pee on the stick. It was a digital test that says the words either PREGNANT or NOT PREGNANT. I waited for a minute to see it show up. I thought for sure I would see the words NOT in front...well I didn't. I looked down and saw the big word PREGNANT. I was literally in shock. I started shaking. I couldn't believe it. Every other time we have gotten pregnant we have planned and been ready. We had been trying. I usually get pregnant within 2-3 months of getting my past IUDs out. This time around was so different. We had NOT been trying. We had not been planning or ready. We still have a baby who is nursing and is not even crawling yet. This was just crazy. I immediately got worried and afraid to tell DH cause I didn't know if he would be angry. I kept it to myself for about 30ish minutes...tried to compose myself and then went out to make breakfast for the kids. He could tell something was bothering me. I tried to downplay it and said I was fine. Eventually I pulled him in to the laundry room and asked him..."You will love me no matter what, right?" Hehehe...I know I was being a little dramatic but I was so nervous about his reaction. He said "Of course..." Then I showed him the test.
He looked at it and said "Seriously? Wow...." Then he smiled and said "That's good news!" And I immediately started crying. He hugged me and said its ok....I told him I was so worried he would be mad and he basically told me that this was meant to be. Its not something we planned for or tried to do, it just happened. Which means Heavenly Father has a plan for us that we didn't know about. This baby is a blessing. I was so relieved to know he was ok with it and accepted it.
Its crazy to me that it happened when it did. A week before I was going to get an IUD put in. I am sure if I hadn't taken a test then they would have found out at the clinic cause they always test for pregnancy before putting the IUD in...
So now I am stuck not knowing how far along I am or when I am possibly due. I am guessing I am at least 6 weeks along because I usually don't get morning sickness until then, but it could be as early as 4 weeks. Or maybe as much as 8. The fact that it happened this way and I didn't have a period first is throwing me off big time. Not knowing is really weighing on me...I will try to get an appointment sometime in the next 6+ weeks but I don't want to go too early for fear of them not being able to find a heartbeat so early on. I don't want to be freaked that something is wrong with the baby. I want to be sure of being at least 12 weeks along so they can measure and do an ultrasound if that is the only way to accurately figure it out...so I will try to get in to see my midwife the second half of July or beginning of August. I can't post in the monthly boards yet cause I don't know which birth month is mine...so I figured I would share here first since I am planning on going the all natural route again.
If you were able to stick with me and read all this, thank you for your interest. I look forward to your support, and to reading your stories, and following in your lodges, and also getting my own lodge when I get closer to my due date. Its crazy that I am back so soon but its good to be back and I am really excited that I am getting the chance to have this baby!