Thought I would post this here. Another example of an amazing home water birth. My experience was so fabulous, I thought I would share. It is my hope that more women will be empowered to give it a try.
I feel amazing at this point. Two weeks old, and we have already been to church twice, the water park, to Grandma's so I could get my canning done, and back to normal activities. So glad she's here.
Labor seemed to start for weeks. There were several false alarms. We even had a day the week before the birth where the midwives came over and stayed for a while. My due date was somewhere between the 16th and 20th of July. We weren't really sure. Tuesday night I went to bed having contractions. They weren't a big deal, and since I'd been having them for days, DH went to bed too. At 12:30 I woke up with a contraction. I tried to use the bathroom and go back to bed. By 1 am I went upstairs and started to watch a little tv. The contractions kept coming, but they were 12-17 minutes apart. The only reason I was staying up is that they were lasting for a minute and a half. I used the bathroom a lot. I was finally able to sleep between contractions. They kept going, and even spaced out to 25 minutes apart at one point. By 5:30 in the morning I was tired and a little confused. I knew my kids would be up soon. I woke DH a little before 6 am. By the time he went to the bathroom and made coffee, the contractions had sped up and intensified. We called my in-laws to come over to be with the kids, they were here from out of town. We then called the midwives and my mom. We also called a friend to come over and take pictures. By the time we got everyone called, it was after 6:30 and everyone was waking up upstairs. I told DH he needed to start filling the tub. The tub wasn't quite filled at 7 am, but I got in anyway. It felt great. My oldest boys kept coming down to see what was going on. I was breathing hard and getting vocal through contractions. They were hard and starting to feel like they were on top of each other. Our midwife Bobbi showed up at 7:20. I was finally able to get out of the tub for her to check me. She said I was somewhere between 7-8cm. I was sure she was wrong since I felt as if I couldn't do it much longer. It turns out she didn't want to scare me, but I was more like a 9 with a little lip left. By the time she started to set up things to get ready for baby my contractions spaced out a little. I was going through transition. My in-laws were upstairs, and my mom had arrived. I started to feel the need to push with each contraction. I thought maybe that wasn't right since I still had some time to go. I leaned over the side of the tub and began to push with all of my might. Her head was already right there, but I felt her fill my entire pelvis. I felt a pop, and cried out "My water broke." It was the first time my water had ever broken on it's own in labor. I was so excited that I turned over so I was sitting in the tub. My six year old was down here and ran up stairs at that point. I pushed as hard as I could and reached down to feel her head. She was right there. I could see her hair. Bobbi said she could see her eyes. I said it hurt and I just wanted her out. I kept pushing. (I was told later that I only pushed once) Bobbi asked if I was having a contraction, and I replied I'm not sure but I don't think so. She told me to stop pushing and just take small breaths for a second. I did, and with the next wave I pushed the rest of her out. I reached down for her in the water. I held her in the water for a moment while Bobbi unwrapped the cord from her neck. As I pulled her up to look at her, I asked DH to get the rest of the family. Everyone came in to the room to meet our daughter. She was covered in vernix, but perfect and beautiful. She didn't make a noise. She just opened your eyes and looked around the room. The MW hadn't done many water births in the last few years, so she was a little uptight that Liberty wasn't making any noise. She had us get out of the tub after she cut the cord and got baby wrapped up. She was weighed on a fish scale, and I delivered the placenta on the bed while DH took care of Liberty. Her scores were 7 and then 10. She made our midwife a little nervous because she was so calm in the water. She looked tiny, but was 8lbs 4oz. We were all a little shocked. After we were cleaned up, the other kids all came down and wanted to hold her. We spent the rest of the morning nursing, eating donuts, and snuggling. By afternoon we were upstairs with our family enjoying our daughter. Our little gift from God. Welcome to the world Liberty Grace.
Stats- 7 hours of labor, 5 easy, 2 active hard
Date- July 14th, 2010
Time- 8:15 am (our first daytime baby, all the rest were born in the evening or middle of the night)
Weight- 8lbs, 4oz
Length- 20 in
Head- 14in
Just pulled out of the water- MW estimates she was a week or more early by the amount of vernix. She looks a little goopy.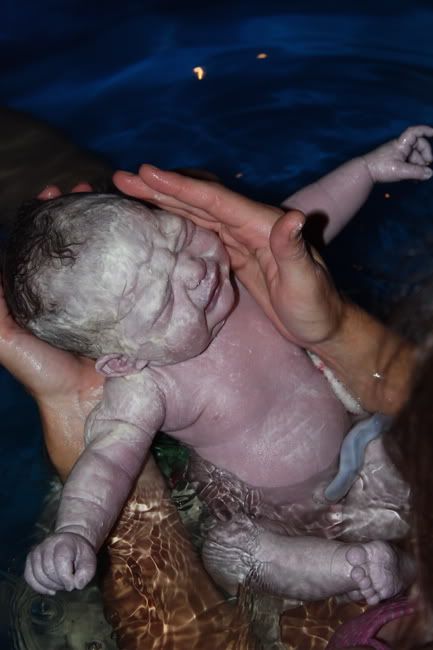 Meeting her Mommy


Cleaning up


Getting weighed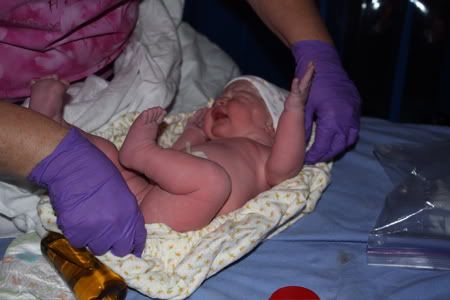 Hanging out with the family later in the day