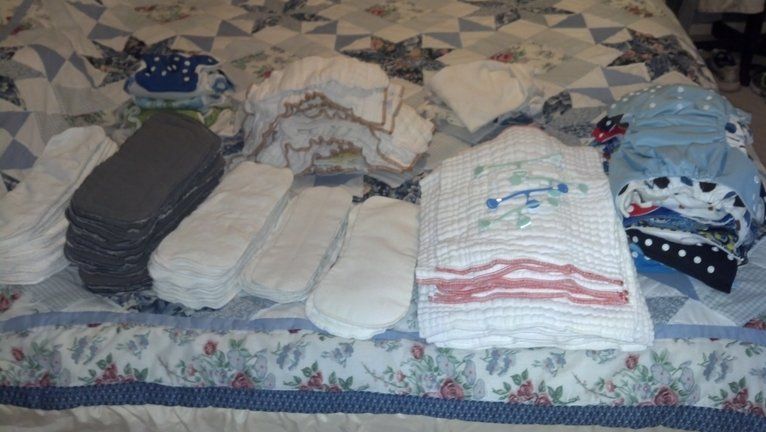 So I started CDing DS when he was 4 months old, he's now almost 8 months. And in less than 4 months I've accumulated this stash. Granted it's not very diversified, but it's working for us right now. I started with 21 Kawaii Minky pockets, but had major leaking issues, so I sold off most of that and then began collecting other pocket diapers and trying different inserts. Now I hate that I sold off that much of the Kawaii's because they are now some of my favorites and fit him the best. This is the entire stash! I'm using sposies this week because we are moving to a new town on Friday and I didn't want to have to deal with even more laundry this week. Besides, they desperately need stripping and I'd just rather wait until I get to my new house with my new washer to mess with all that.
I have 20 pockets (various brands), 17 charcoal bamboo inserts, 12 bamboo, 10 hemp, 10 MF, 4 hemp blend, 7 workhorse fitted, 4 covers, 18 prefolds, and 5 flats (4 very small ones and one huge one that Jackie gave me).
I'm sure it's not as big as some of you have (*cough*Jackie*cough*), but I'm pretty impressed with what I've worked up.
Anyway, I just thought I'd share for the fun of it.