Sorry it has taken me an age to upload all this lot!
Anyway, here is Sally's day:
7am: I was awake but Mummy made me get out of bed.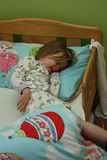 I LIKE bed - so I get straight back into bed with Daddy. Ooh - a book!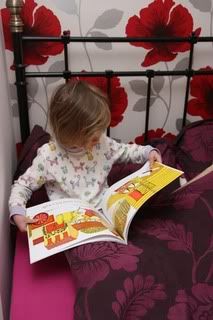 Mummy wants me to say that they are sleeping in the spare room whilst they redecorate, which is why the bedlinen and the wallpaper don't match! I think they are silly - don't they know my baby sister is arriving soon? Anyway, then it's time for BREAKFAST!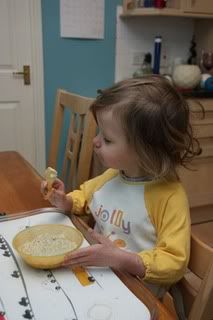 Today I have banana and Ready Brek. I sometimes have apple or pear or papaya or raspberry or strawberry, and sometimes I have Weetabix. Today is banana. It's yummy. I also have some milk.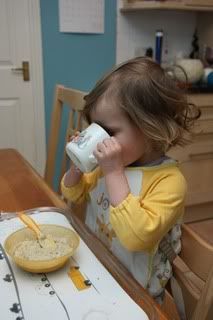 Then it's back upstairs to get my pyjamas off and get dressed.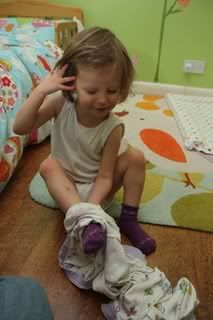 Then it's time to clean my teeth
And then off we go downstairs. I find a book! This one is called Owl Babies.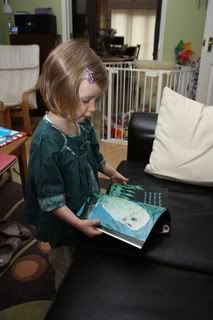 Mummy drinks orange juice in the morning - if I ask nicely I get a sip!
Then I do one of my puzzles. I like my Thomas the Tank Engine puzzles best. This one has Bertie the bus on and is my favourite puzzle of all.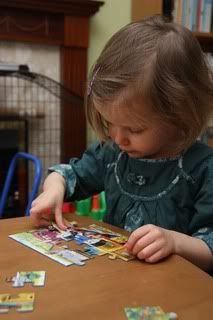 Then we go upstairs so Mummy can put some washing away. I take the chance to get back into bed and read another book!
10am: Time for my snack! Today I have an apple and a drink of water.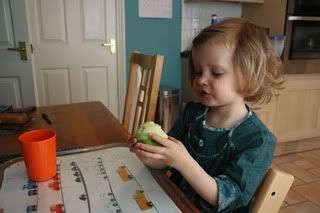 Then we need to go to the supermarket, so I put on my funky green shoes and my bodywarmer. Ok, Mummy puts them on. But I help.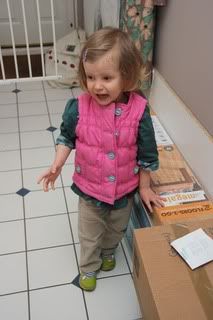 Then it's into the car, and off we go!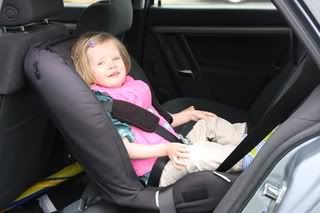 At the supermarket I can be a little fussy about trollies. I like the ones with a tiny ladybird on the label. But today we find one of those anyway so that's ok.
When we get home I do another puzzle. This one has Thomas and some diggers on it. I have to concentrate hard though because it has a lot of pieces!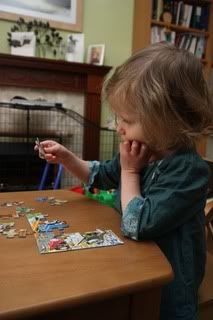 12:00: Then it's time to watch television whilst Mummy warms up my lunch. I love to watch BALAMORY and get REALLY excited. This is Josie Jump, my favourite character: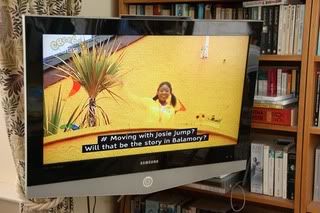 This is how happy I look when she appears!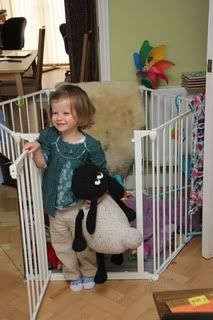 That's Timmy, by the way. He likes to watch TV with me. At least I assume he does, he doesn't say much except Baa.
Then it's time for my lunch. Today I have thai chicken with sweetcorn and peas with noodles, and some swede.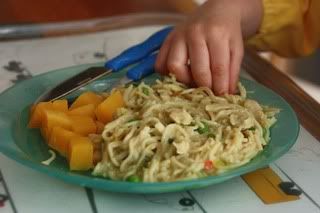 It looks a lot of food doesn't it? What's that, you don't think I'll manage it all? Bet I do...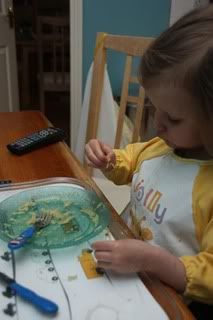 Look - all gone! And I'm still hungry, so I also have a fromage frais and some cheese!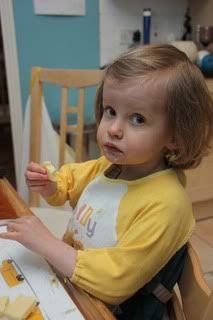 Mummy says I am a greedy piglet because I eat like this pretty much every day - they don't understand why I am still so skinny!
12:45: Then it's time to go upstairs and have a nap
2:30: Time to get up, but I am always a bit cuddly after a nap so I have a snuggle on the sofa with Mummy.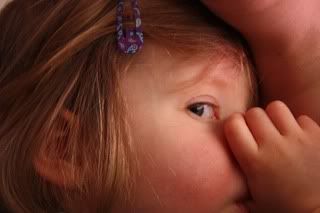 Then I have a quick snack - a cereal bar! I love these. I always ask for them but Mummy makes me eat fruit for at least one snack a day. But fruit is ok, so it's not too bad.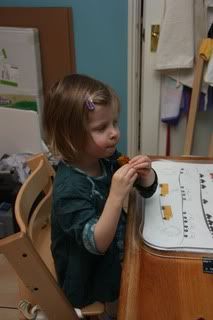 After my snack, we go out to the park behind our house. I love the swings and I don't really like to do very much else, but today I do go on the wobbly thing as well.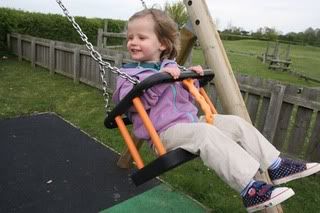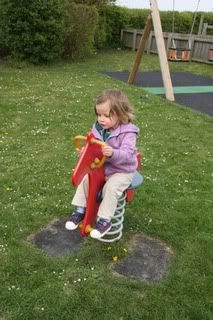 [be patient whilst I construct section 2 - don't want to lose it all midway through so posting section 1!]