Another update: So now we're kind of getting annoyed! The doctor comes in this morning (we were expecting him to come in and put on the splint) but he says he doesn't think the crack is what's wrong (WTH!?!) and he wants to manage his pain today and see how he is tomorrow. He said wow it looks like he's pretty comfortable, and we said yeah right now he is he just had his narcotics but we also told him that when we try picking him up he screams, so he's been laying down in bed pretty much 24 hours AND he won't move it still:( So he said he'll check on him later but that's our plan. SOOOO we're annoyed with all of the "diagnoses" and the orthos my mom works with said something is definitely wrong seeing as we all heard the pop and he won't move it and they recommend us going to a specialist (pediatric ortho) in Milwaukee (1.5 hours away). SO, DH called there and explained everything and we have an appointment for tomorrow morning. When the nurse came in we explained everything and she communicated it to the hospital pediatrician that visits Ronan now and then and she said its a good idea and not to feel guilty because we need to do what we feel is necessary to help our baby. We will be staying here at our hometown hospital tonight for pain management then go to the specialist tomorrow morning for the appointment. Through all of this we are kind of wondering if the ortho is not doing a great job because he feels guilty/ is worried about a lawsuit and is therefore hoping we settle with just managing pain? Something kind of weird- when the pediatrician told him we were going to the specialist athough he said he understands he also said he wanted to put a splint on for transport, and this makes me wonder why he feels that's necessary if he doesn't think Ronan needs it now...???? Sorry again for such a long story here! I'll include another picture for your viewing pleasure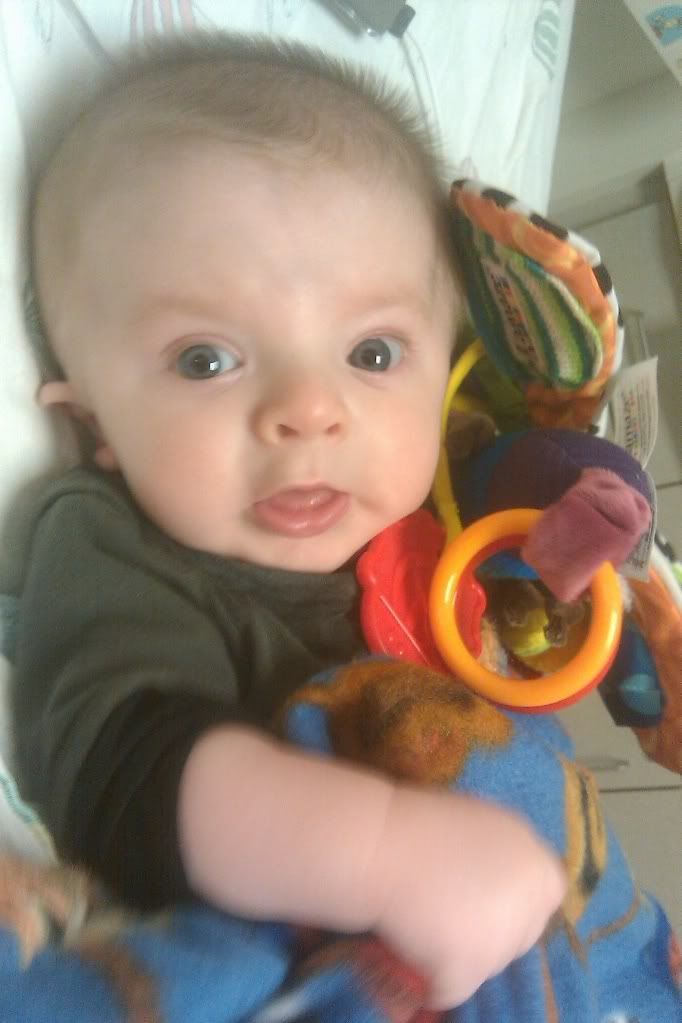 update: DH made them do more xrays because of Ronan's continued screaming (and because the doctor didn't know for sure what was wrong), and good thing he did because it ended up not being his hip, but a crack in his right femur, down the shaft of the bone. He is on IV morphine for pain because the baby oxy wasn't cutting it, so now he has an IV in his foot. The doc says he's going to splint it tomorrow, so not another spica at least, and as soon as the pain is controllable (with stuff we can give at home) we'll go home. Ronan is sleeping right now (1015 our time), and not whimpering when he startles himself awake, so this is good at least! Thanks for all of the support so far!
Oh- as for the doctor paying the hospital bill- when Ronan broke his leg 6 weeks ago the insurance sent us forms to fill out about how the break happened and when and where etc, so they'll probably do that again this time, and maybe they'll contact the doctor's malpractice insurance or something- not sure but maybe!
Ronan had his 3 week follow up with the ortho this morning to make sure he has healed well since the cast was taken off. They did x-rays then the doctor came in and said it looks great and moved it around and Ronan did fine- he was kicking it on his own already anyway. Then the ortho was checking out both legs at the same time and went to rotate/manipulate his hips and we all heard a pop followed by screaming. The doctor went "oh no, oh my gosh, lets get him to x-ray right away" and we did. Then the doctor came in and said "I'm so sorry about that folks" and went on to say that he doesn't see a current break (it was the opposite leg than before) just a healed one from maybe in utero. Ronan was still screaming and not moving that leg but I got him to quiet down by holding him to me and walking around (he sort of fell asleep like what he did last time he broke his leg) so the doctor said we should BRING HIM HOME and take him to children's hospital later if he didn't seem better... Anyway, I thought okay... he should know what he's doing so I'll listen, so we started getting him into his carseat and he woke up screaming his head off, so we told the doctor we'd be more comfortable if we brought him to the hospital right away. So they wrote up intake orders and now we're here at the hospital. They tried tylenol and ibuprofen but that didn't seem to work so now he's on a baby form of oxy (roxy I think?) and he's sleeping, but anytime he sort of wakes and tries to move it he whimpers and cries:( The doctor here called the ortho and the ortho said he's pretty sure it's a crack in his hip and they don't cast for that, they do "double diapering" which helps keep the hip in position to heal. They want him here to control his pain- he cannot go home on roxy because he has to be on monitors if he's on it, so hopefully the tylenol and ibuprofen do the trick later on? I don't know what to do- this sucks this sucks this sucks. I tried holding him before and he would doze, but then wake up and start screaming, so he's been laying in the crib/bed with positioners propped under that leg, and we've even been feeding him his bottle while he's laying in there, which I feel horrible about since he's used to being held/cuddled while he eats and is used to being burped (obviously!). Sorry for the novel here, just feel kind of helpless! Something good- my husband was with and he's so much tougher than me! When the nurse changed his diaper a bit ago he SCREAMED because that moves his hip/leg, so my husband was able to help her while I turned away to make the bottle. DH also called into work for his 2nd shift job and someone is covering his overnight job (he works 64 hours a week!) so he'll be around at least until tomorrow's overnight.
If you got this far here's a picture for you!