Kay turned 6 months old on Sunday:) I still am having a hard time that 6 months have gone by.
Our breastfeeding journey has ended. I'm a little sad about it, but with being pregnant my supply has pretty much completely dried up. She is a much happier baby, and she eats anywhere from 6 - 8 ounces. I am using up my last 8 ounces of frozen breastmilk today. I really thought I had enough to last maybe a month, but it hasn't even really been a week. So that was a shocker. We have given her a couple bottles of formula and she has done really really well with it. So that makes me feel a little bit better in making the transition.
She babbles so much and is full of smiles all the time. She loves the attention on her and her brothers help with that. Joshua can always make her smile and laugh:)
She has her bottom two teeth and is now having a third tooth come in. As you read from my other tooth thread it's not her top two teeth but on over, odd but unless her top two teeth never come in I think I am okay with it.
She still isn't sitting up and she is no where near crawling. So I think it is going to be awhile before either of those.
Okay now for the pictures
I just love her look in this one.

my little poser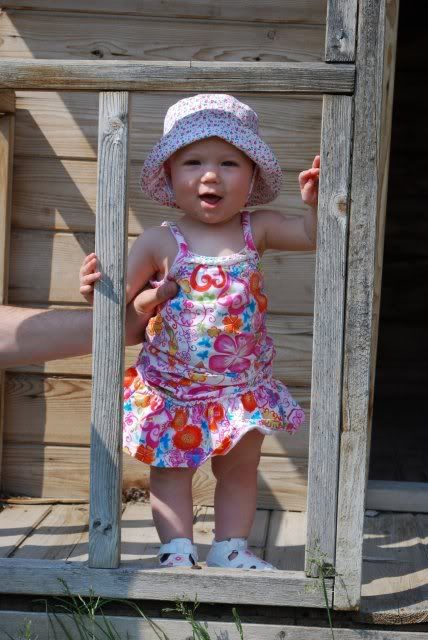 First time in the grass and she loved it.

Hope you enjoyed.