Her actual birthday is on the 25th, so we celebrated early. I think we'll always celebrate her birthday a week early so people don't tend to get it mixed into the craziness of Thanksgiving!
She had SOO much fun!
This video is of her playing with her balloons. She thought they were pretty cool.

This video is of her FIRST birthday cake! She was NOT amused. She got really upset when her hands got all icky with icing.
You can actually see her shaking her hands to try to get it off. Heh. Such a little girl!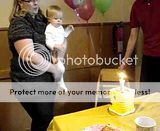 And here's some pictures!


This is the little boy I watch during the week! He had lots of fun too!


Trying to pick her nose. Ha!


She passed out 2 minutes after getting in the car! It was an exciting day!!