Hey everyone! I'm here, I just don't get a lot of time to reply to posts - but I do read most of them and am anxiously waiting for those who still haven't had their babies, and am so happy for all of you who have already. Things are going well with us. Allyson is a good baby...she sleeps a lot. lol She is precious and we are so proud of her.
I wanted to share a few pics with y'all...(I'm sorry these are so small...I intentionally make them that way b/c I don't really feel comfortable sharing a lot of pics like this=too many crazies out there)
Anyway...
Last belly pic - before we left for the hospital...in the original pic you can see the clock behind me..it shows how stinkin' early it was (we had to be there at 5:30 a.m.)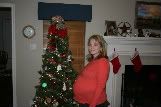 Austin meeting Baby Sister for the first time...

Getting ready for the ride home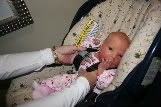 A couple of pics since we've been home...