screen went well. Everything looked normal but we'll have official results in about a week.
baby is measuring 5 days ahead already! They wont change my due date even if baby starts to measure more than a week ahead from now on. They feel the earliest U/S's are most accurate. Which is probably tru. I just grow a little bigger babies than avg.
Here SHE is: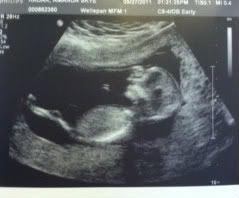 Baby was sooo cute jumping all around(kind of arching her back and pushing off my uterus) and i didnt feel any of it! I was surprised.
And at 13 weeks exactly i took this photo with my new iphone!