I am SO THRILLED!!!!! After all those worries about my ultrasound, we got an amazing tech who showed us the whole session and told us what we were looking at too! The only info she gave us is that baby's measurements are on track for my Dec 3rd due date, but the radiologist will confirm that and all the other results, if there's anything more to say. From what we could tell...everything was there!
We saw the heart beating away (didn't hear it though) at 147 bpm. Saw the whole spine, brain, kidneys, stomach...all the limbs, the face, feet/hands, etc...no shot of the goods though. Didn't even show us :rolleyes:
My favourite part was when the baby appeared to be sleeping face down at first, but pretty quickly woke up and made the tech go on a chase to get shots of the arms. It was waving them around pretty good...especially up by it's face, which was cute. At one point it curled right up with feet by the forehead which was so adorable! It was incredible to watch baby move and feel it as well, that was just amazing! Baby is going crazy with movement right now too, it's all riled up haha!
It felt like only five minutes, but it took about 20-25 to get all the pics and measurements for the radiologist. I was DYING TO PEE as I'd been holding 1 litre of water for over an hour, and luckily she let me go pretty quick. First thing we saw was baby on one side, and on the other this great big black hole, which she called my "very full bladder" lol!
AND WE GOT PICTURES!!!! So nice of her. We got eight, here are my favourites
and a belly shot for good measure!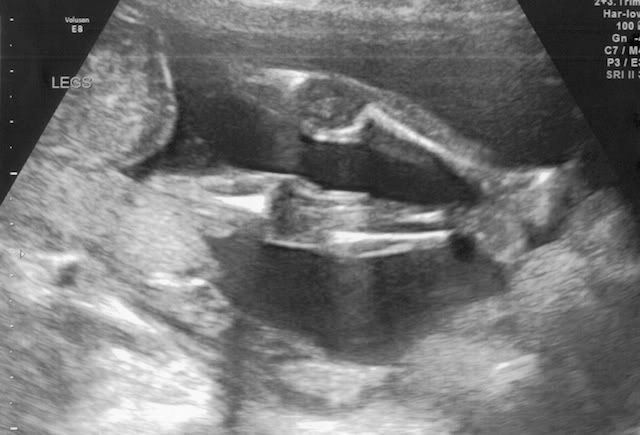 Love this shot of the cute legs!
This shot is amazing to me! We got a full face shot too, but it just looks like a skeleton right now! :eek: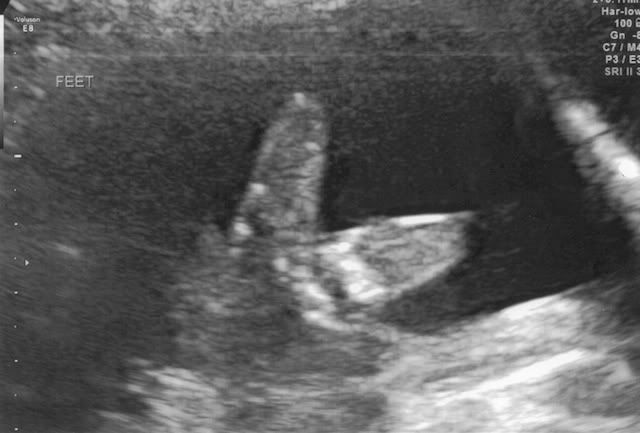 baby feets!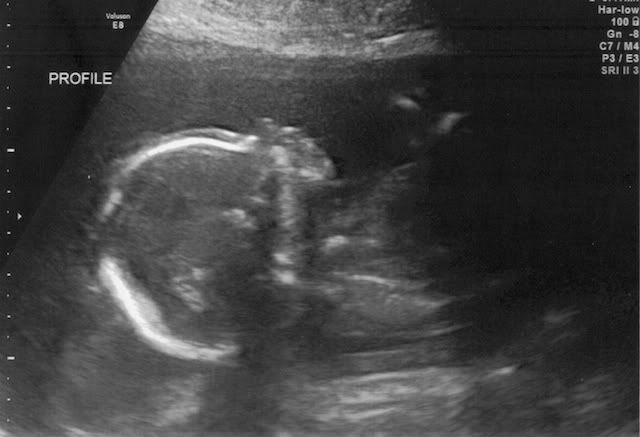 Couldn't wait for the profile shot...it took a good ten minutes before she got to the head, it was driving me nuts!
And my latest belly shot, just before 19 weeks. That's my new dress for summer (it goes down to the floor) I love it and it was only $10!!!
Thanks again for all your support when I was sad about this appointment...it went better than I ever could have hoped for!