So after a very eventful appointment, I got to see my little one.
I went in and they tried to find the heartbeat and couldn't. The Dr. asked if I knew if my uterus is tilted. No one has ever told me before, so I had no idea. They brought me a few doors down and did an ultrasound (on a very old machine!) and couldn't find anything. No baby, no sac, nothing. I was very unsettled. So the Dr. offered (without me having to ask, Yay!) to set me up with the ultrasound radiologists downstairs.
They sent me down and I had the best tech. She found the baby and heartbeat right away! She let me know as soon as she saw it, and then took ton's of measurements to make sure everything was good. They baby even waved. I am measuring at 12 w 5 d instead of 11 w 6d so depending on the size of this baby and if everything goes well, I'll have my c-section right after thanksgiving. Here's a pic!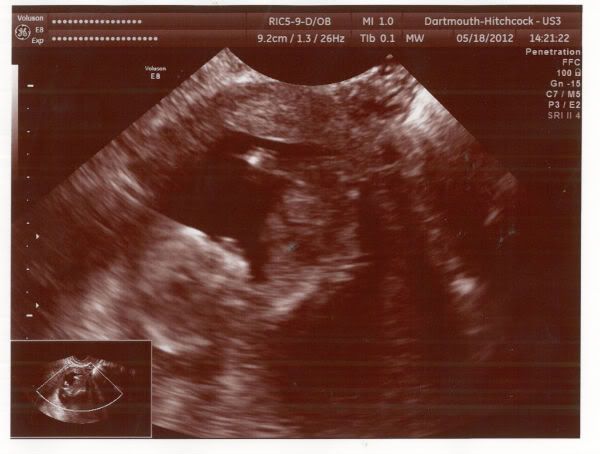 I then had to go back up to the OB's and check back in. Which I did, but the receptionist never actually marked that I was back, which was frustrating. When I checked in she said she wasn't sure who would be reviewing my info and it make take a little longer to get me in. So I figured I would have to wait. I waited for an hour, then went back up to the desk and found out that she never checked me in and they didn't know I was there. Which was frustrating, but oh well.
So after all of that, it was a good appointment just very stressful.