Alright here is 12 DPO. It's a little darker and I feel like you can see it a little better in picture now! Yay!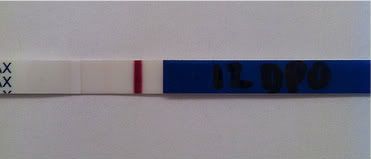 ~~~~~~~~~~~~~~~
Okay, so I woke up this morning to take my temp and I had to pee. I am sick of waiting, so I POAS and got this SUPER faint line. I saw the line within a minute, but this picture was taken after I went back to sleep and woke up again.
My main symptom right now is my complete lack of appetite. Ugh. I miss food.
Haha.
So do you guys see it?