When staring at lines in early pregnancy I always find myself looking for tests which also share HCG level (by blood test). I don't know, maybe I'm the only one who does that, but just in case I figured I'd share a picture.
I had my HCG tested today (currently testing it out after a loss). I decided to take advantage of the opportunity to have some fun with some wondfo HPT strips. So, I diluted my sample to 1/2, 1/3, and 1/5 strength. Here are the wondfo HPTs showing HCG levels of 117 (undiluted), and approximately 58, 39, and 23.


I'm impressed that it really does seem to test positive around 20-25 (I think that's what they advertise).
UPDATED:
so, as requested, I tested to see how low I could go. Here's a photo (NOTE: taken well after 5 min limit since I took them at different times)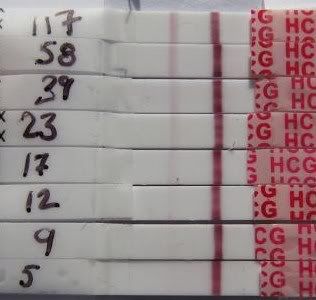 because photos don't show as well as in person, I'll say that I can see lines very easily down to 17. 12 was super faint at 5 min but as I waited it got darker and very obviously pink. 9 looked like an evap at 5 min but as I waited because a pink squinter. 5 I'll call a frustrating evap. it would leave me squinting for a long time, but there's no way to get a pic of it and I can't tell the color. So... I say either they can test positive between 5 and 10, I got a very sensitive batch, or my level is higher than the blood test showed.