I am definitely not trying to get pregnant but because DH and I DTD on CD9 of my usual 26 day cycle ( well thing is my AF's prior to this last month had been 23 days long and had been since I had my son but normally 26 days is what I usually go by)...so because of this scare of DTD so soon (Sept 4th) after af finished (last af was 27th aug) I did end up getting some OPK's to see when exactly I would ovulate and if I have to panic per se. I normally get ovulation pain and I am pretty sure I get the pains afterI ovulate (I sorta know this as I had an U/S done 9 weeks PP with my son and I had already had a largish follicular cyst which my ob said was formed after ovulation and I had similar pain then)...also along with the O pain there was no EWCM but definitely a couple of days before I noted something similar (usually it's full on but not this month :confused:)
...SO, I didn't test before CD13, but on that day I got this: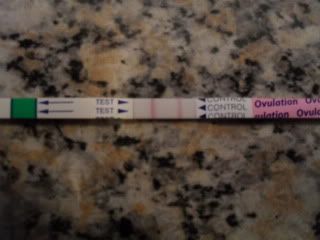 Would this have been a positive? If so, is it possible this could have been happening longer (as I didn't test beforehand to see).
I did another OPK today (CD18 ), the one underneathe the CD13 OPK:

Both came out very similar and 5 days apart. I actually don't get it, do OPK's lighten up as you progress? If I am back to a 23 day cycle this month it would mean I am 5 days away from AF. I don't have a HPT with me now but will get one probably around 20th Sept if AF hasn't come by then anyway ( will get a FRER so no mistaking it if its positive right?)
Anyway, generally confused, so any thoughts on what these tests say would be great! TIA!