This morning I gotthe faintest of faint lines. It looks like a super faint BFP to me, but could be a really nasty evap. I doubt it's visible in the photo, but here goes.



Hopefully I'll have better photos tonight or tomorrow. I usually test positive at 10dpo and it's 9dpo today.
ETA: I took a couple more pictures now that the sun is up and the light is better.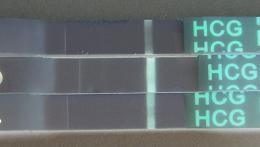 I think it's pretty clear on the middle test and maybe visible on the top one.