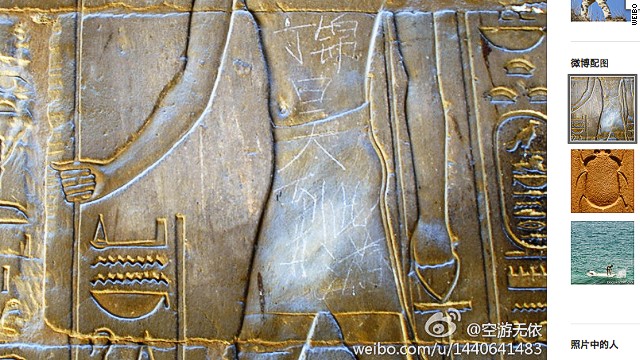 Netizen outrage after Chinese tourist defaces Egyptian temple - CNN.com
I find this story outrageous! For many young people, immortality is found in the writing of "I was here" on a park bench, bathroom stall, or even carved into a tree. None of which were good enough for a 15 YO Chinese boy. No, he carved, "'Ding Jinhao was here' in Chinese in the 3,500 year old Luxor Temple."
That in itself is bad enough. But I find his parents' response dismissive and minimizing as to the severity of what he did.
"We want to apologize to the Egyptian people and to people who have paid attention to this case across China," Ding's mother said in a China Daily report.

Ding's parents said they shouldered the responsibility of what their son did, adding he had learned his lesson.
Really? Why is this a lesson to be learned after the fact? Couldn't there have been smaller lessons along the way?
Anyway...my debate question:
What is the appropriate punishment/consequences for this?