Ashley I stole a lot of the questions from one of the check ins you did way back when

LOs name: Remy
Birthdate: 1/26/12 (4 months today!)
Birth Weight: 6 lbs 7 oz.
Birth Length:18 in
Current Weight: maybe 12.5-13 lbs?
Current Length: 21 in? We'll see wednesday
Milestones met: She's only rolling to her side (but not surprised since she was in a cast for 3 weeks then regaining muscle strength), she does everything else she should- reaches for things, grasps them, brings them to her mouth ;), coos and smiles and makes this cute screeching sound (when both happy and sad!), sits really well assisted (bumbo, boppy, on my lap etc), is trying to use her abs to sit up when laying back
STTN?: Yes, from about 830-630, then eats and back asleep till 830 or so.
Anything New: The screeching sound! I didn't know what was making the sound the first time I heard it

Any Concerns: Worried about her shots next wednesday since last time the nurse broke her leg! I think I'll stay home with DS and let DH take her...
How are siblings handling the new addition: Ronan loves her- if he is in their room he'll go to her pj drawer and pull one out and bring it to me or put it on top of her (helpful
) He still loves kissing her and putting his forehead against her's.
How is your SO handling the new addition: He is a busy guy, but such a good daddy. He still loves picking out clothes for her if we're at the mall or a store, and even has been heard stating "Oh this is cute!" and he is a manly man haha
Baby's personality? Remy is SO easy to get smiling, giggling and cooing. She is seriously one sweet girl! She LOVES when I hold her hands and shake her arms (gently of course) and sing "Shake Your Booty"
She is a bit of a crank when she gets hungry- she kinda goes from perfectly content to crazy mad in a minute, and because I was unable to BF and have to make a bottle she gets all worked up, but once the bottle is in she's good to go! I really cannot get over how easy going she is. It isn't like she's boring or just lays there, but really it is easy to make her happy.
Anything else you want to add: She did really well on a 5 hour car-ride we did back in the beginning of May- it was crazy.
SHARE SOME PICS!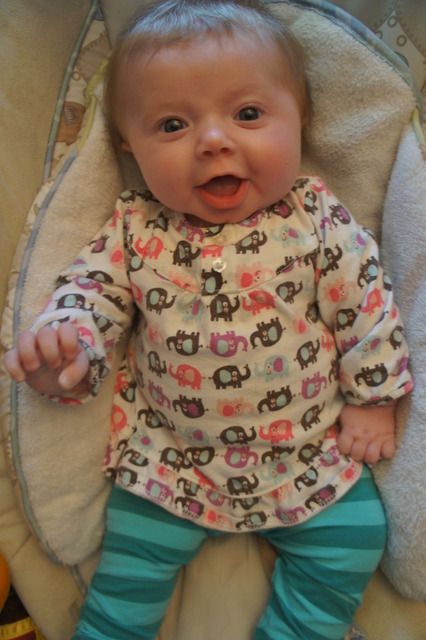 Oh yeah- she LOVES the pool!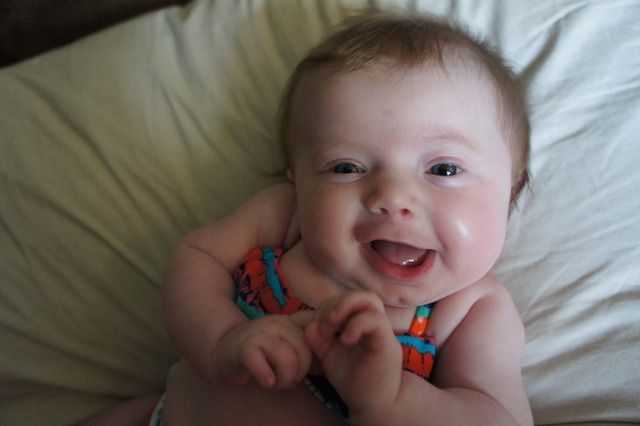 At the circus: