Welp today I had my ultrasound, ya know cuz Rowan is this massive unbirthable babe and all.
This massive giagantic mega babe weighs in a whopping 4.5 lbs. -_- Yeah....He is dangerously huge. Im terrified of birthing now and will be requesting his prompt eviction. LOL For those who didnt catch on, Im being very saracastic.
Heart-Looks the same, two smaller sized calcium deposits, one small hole that actually apears to be self healing already! (: yay Rowan! Will get allll the details the 28th, but the tech was happy, the in charge lady was happy so we are happy
Brain-She said it looks good, nice big ol' noggin. His brain scans pictures were being sent off to a specialist, so we will find out more the 28th as well.
Size-He is measuring wonderfully. Baised on their measurments I just have lots o fluid and thats why my belly is so massive! (: They said not to worry, it just means he has more wiggle room than other belly babes.
Position-He started off head down, went to transverse about 30 seconds into the US, then flipped back to head down and wiggled his way down to my pelvis lol
BPP-He passed. He was practice breathing, hiccuping, thumb sucking and wiggling around like crazy!!
And he aparently enjoys using my placenta as a pillow! haha You can see him snuggled up with it in one of the pictures.
He looks JUST like big sister-Daddys head, mommys nose mouth and chin! (:
Now the good stuff: Sorry my phone takes horrible photos!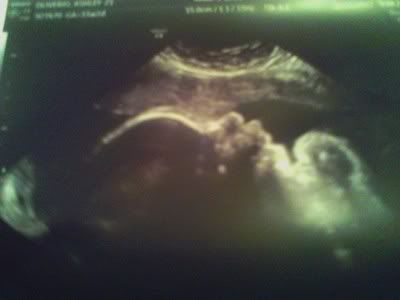 Cuddles with the placenta: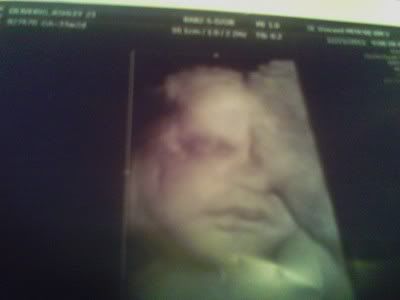 The best: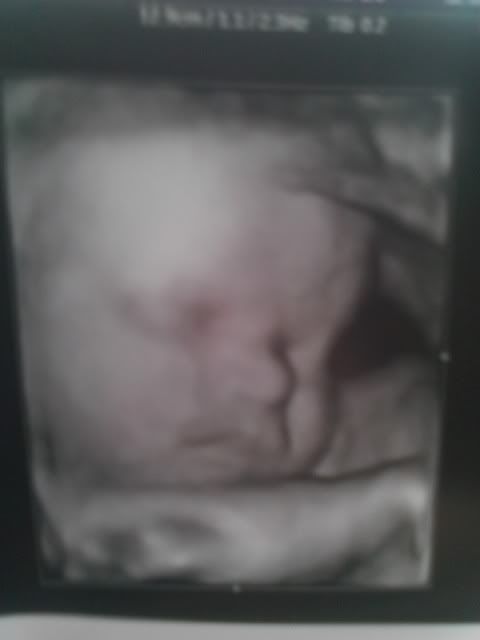 If your a FB friend you can see these a little better. Idk why they are so horrible on Photobucket. ): oh well