Hello everyone,
I have been a member of this forum for years, but haven't been around in quite a while.
My name is Anastasia and my DD Ella just turned 3 last month. We have been trying to give her a sibling since January 2009. Last Tuesday at 8DPO, I got my BFP. I have been testing like a madwomen ever since, and tomorrow morning I go in for my first beta.
This is my 8th pregnancy. I had a natural miscarriage at 9 weeks back in 2004, then DD was born in 2008. Since trying to give her a sibling there have been 5 more miscarriage - 3 chemicals and 2 missed miscarriages.
I am a long way from confident in the idea that this one is going to stick, and I have introduced myself to many birth boards only to have to say goodbye. I'm hoping this is the one that I get to stay with.
Here is a picture of my FRER from today: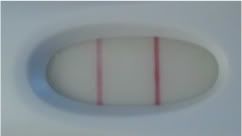 I look forward to getting to know all the ladies here!