Back from RI again last night. Good to be home. Sorry I haven't been around much since early last week, we were handling all kinds of family stuff after Tom's mom's passing.
We have our nuchal scan today at 2! Nervous and excited all at once
UPDATE:
Well, we didn't get any results of anything. She said that they really like to have the blood tests together with the measurements to give a full picture, so we'll have to wait 7-10 business days (boo).
But we got great pictures and got to see our little guy. He was kicking and moving, but very cooperative with measurements. We have a great ultrasound tech who is more than willing to gender guess, but from one angle she was thinking girl, but another angle thinking boy and so she said she really just wasn't sure. It was nice of her to try so hard, and I'm hoping in two weeks we'll see for sure

So it wasn't that long, and no results or gender, but it was nice to see the baby.
Profile Pic: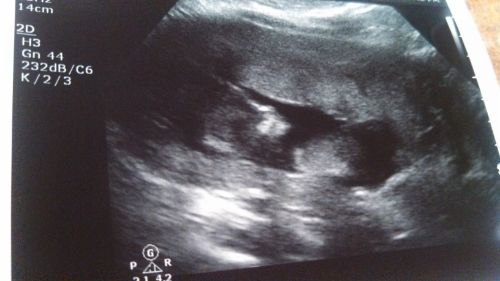 Baby with fingers up to mouth: