I thought it would be good to start a journal where I can record my daily food intake, and journal my thoughts and feelings on my journey to the new skinny me. Not only do I want to learn how to "eat" like a skinny person, I want to learn how to "live" like a skinny person in my activity/exercise level.
Height: 5' 8"
Current Weight: 178 lbs.
**Goal Weight: 145 lbs.**
(They say my ideal healthy weight is 147 lbs., but a healthy range is between 131-160 lbs.)
Pounds to lose: 33
Would like to lose this by: October 18, 2010
My Weight Loss Ticker with current stats: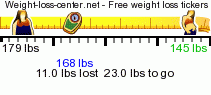 I started on a new challenge yesterday, so I am counting 33 weeks from then. That will allow me to lose an average of 1 lb. per week. Yes, that is low and boring, but I am trying to be realistic. I am 41 years old, and in June will turn 42. The older you are, the slower your metabolism, so I am trying to give myself an attainable goal so as not to get too discouraged. If I do better than 1 lb. per week, I will have reason to celebrate.