Ariana Rabecca C.
Born April 13th, 2011 at 1:51 pm
7 lbs 6.5 oz, 19 inches
39w1d
I had my last OB appt on the 12th (I was 39 wks exactly) I was dilated to 3 and most of the way thinned out and her head had moved pretty down pretty far. I had my membranes stripped that morning hoping it would start things on their own so when I went in for my induction the next day I would already be moving along. I tried to be moving around on my feet the rest of the day but I never went into a good ctx pattern or anything tho I did have some ctx and they were more intense than previously but it was obvious I wasnt in labor. Dh and I dtd that night again hoping something would start but I woke up the next morning not feeling no different and was depressed by that and figured I was in for a long labor that day.
At 7 am we were preparing to leave for the induction and I went to the bathroom one last time and discovered I had lost my mucous plug FINALLY and had some bloody show. On the way there I started feeling more ctx as well. When I got to the hospital at around 7:45 they hooked me up to the monitors and said I was contracting every 7 mins but they werent very big ctx and I wasnt in pain or anything. I got my IV hooked up and started on fluids and got my abx going as well for the Group B. At around 9:30 my MW broke my water and put a scalp monitor on baby and started the pitocin. I had managed to dilate to 3/4 over the night so I was a bit farther along. The ctx went to every 4-5 mins almost immediately and got a little more intense as well but still nothing too awful. They put a call in to anesthesia so I could get my epidural as soon as I could MW said there was no point in waiting. My nurse (who was my nurse when I delivered my last as well) was great we had a nice long discussion on my lack of effective epidurals and what we could do to try to make this one better. I was pretty spoiled there was no one else in labor that day! The anestheisiologist came in he was one I had never had before and he was super nice we talked for awhile about the nature of the epi too. He took awhile putting it in and securing it well and we decided I would turn back and forth quite a bit to help distribute it evenly. I start to feel numb pretty quickly which was good as the ctx were getting more painful I could talk thru them still tho which was a rarity for me normally they get really bad really quickly and stay that way. I think this was the best epidural I ever had as I only had one spot right around my pubic bone where I felt real pain the rest was just tightening and it made things much easier. My MW came in a bit later around 11:30 and decided to put in an internal ctx monitor as she was certain the belt wasnt picking up the ctx fully. She was right once she had that in the intensity of them starting registering and she said they were huge ctx but I barely felt them, they were about every 3 mins at this point, and I was dilated to 5. I continued on able to have conversations with everyone and was in some pain but not much at all until about 12:30 or so. Then I started having to breathe thru the ctx and squeezed dh's hand thruout them as well. I had had a bolis of the epidural already and at one the nurse decided to call anesthesia to see if he could give me more as I was having a lot of pain right at my pubic bone still it was nothing compared with the horrible pain of my previous labors. My MW came in right after that and had me sit way up on the bed to see if I could get the epi to run down my stomach more and numb me farther down and she had me kind of squat too so she could check me it was around 1:30 at this point. I was shocked to hear her say "Well do you wanna have a baby?" :eek::eek: when she did. The intense pressurey pain on my pubic bone was the baby going under it and I was complete!! I have never dilated that fast before I didnt even start having regular strong ctx until after 9:30!! She said the baby's head still had some coming down to do so she wanted me to stay squating on the bed to see if it would come down more on its own. That proved unbearable and since I knew I was a great pusher and could do it I asked to push. She said okay but I could tell she thought it wouldnt be so easy (she forgets how well I push she said). I pushed thru 1 contraction and her head was crowning and dh and my mom could see her dark hair. The MW laughed and had me stop so they could lay the bed back a bit and get me more comfy. Then dh joined her on the business end and I pushed thru one more contraction and Ariana was here at 1:51 pm! Dh delivered her after her head was out and laid her on my stomach. She barely cried which made me nervous and the nurse flicked her feet with her fingers but she didnt feel like crying. She was breathing fine and was pink so everyone just let her be. Once they took her to the warmer and messed with her she started in crying a little but calmed down pretty quickly. I delivered the placenta and it was huge says my MW a very healthy placenta which is good. I had no tears or anything I have never had stitches and am happy to keep that going! So all in all it was a pretty great labor! Basically lasting from 9:30 when they started my pit and broke my water until 1:51 when she was born.
She is a very chilled baby she rarely ever cries even now at 11 days! We all love her to pieces even our youngest 2 yr old ds who we thought would be jealous. She fits right in and we couldnt be happier. She does have her days and nights flipped around so sleep is a rarity and that does make things pretty tough on me (dh doesnt ever hear her and I dont really mind taking all the night duty he is a heavy sleeper) at times. DH is going back to work on Tuesday so we will see how things go at home w.o him!
Some pics:
Dh and the MW delivering her: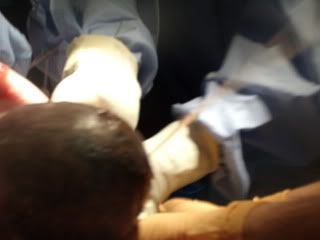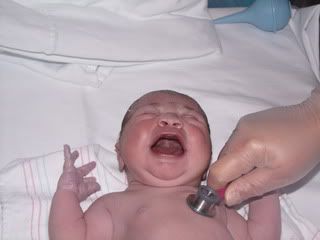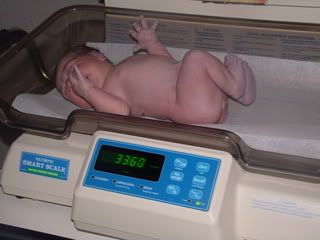 Me and Ariana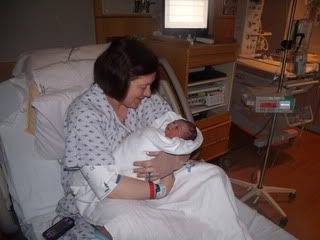 Dh and Ariana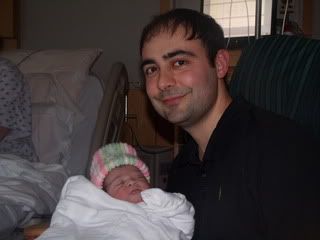 My mom and all the kids meeting their little sister!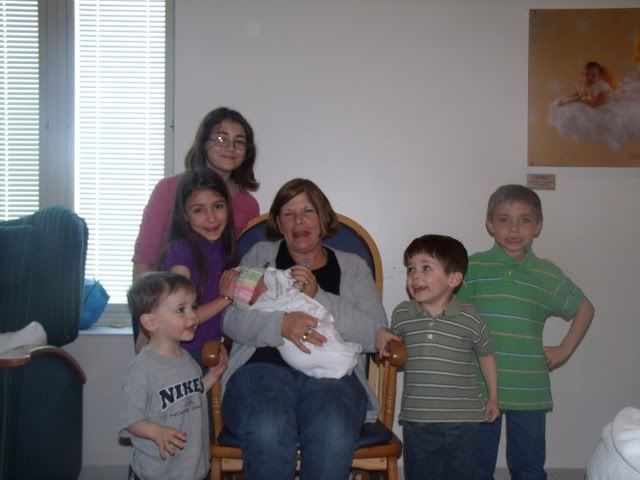 Ari in the hat I knitted for her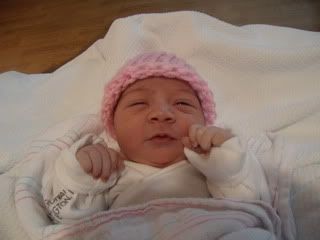 My MW and Ari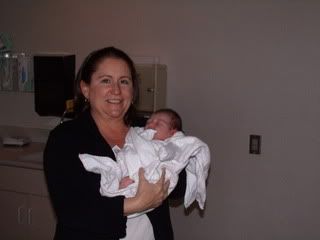 Going home