We had Matthew's two month check up today.
All in all, he's doing really great. He didn't have a major weight gain, but he did gain. We are consistently staying in the 5th percentile. LOL. His height increase was pretty consistent also. I guess we are just determined to be an itty bitty.
In a way, I'm kinda enjoying it. Ariel moved from one stage to another so quickly and was so advanced, that I kinda felt like I missed a lot. I mean, we didn't technically miss anything, but it all just happened so fast. YKWIM? So, I'm kinda enjoying that Matthew is taking a little bit longer. That while he can hold his head up, he still can't hold it up non-stop the entire time he's awake. That he is still wearing newborn clothes and diapers :eek: That he isn't really rolling over from tummy to back yet (done it twice a few weeks ago....think it was a fluke b/c hasn't done it since).
Also, Matthew has been put on Prevacid. The Zantac just wasn't doing enough for his reflux. The poor thing....you could tell how much pain he was in. He'd just scream the entire time he was nursing.....and he would take forever to nurse b/c of it. I'm very hopeful that the Prevacid will make the difference that we need. I know that it really helped Ariel, so we will see!
I have included a few recent pics of Matthew as well as pics of his height and weight growth charts. they are an online chart that I found. I have to chart his head circumference on a paper chart so it isn't quite as accurate, but I can say that he went from roughly the 14th percentile for his head at 1 month to the 25th percentile at 2 months. LOL. I'm not surprised. Ariel always had a huge head (and still does!) Now, if only the rest of the body could catch up! Ha ha!
Okay....Pics are up now!
Weight Chart:
Birth- 5lbs, 15oz (9th percentile)
1 Mo- 7lbs, 1oz (5th percentile)
2 Mo- 8lbs, 13oz (5th percentile)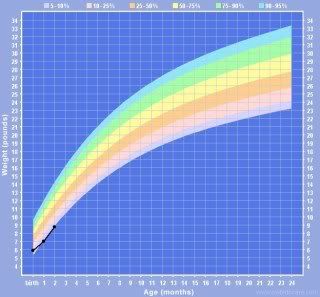 Height Chart:
Birth- 18.5" (14th percentile)
1 Mo- 20" (6th percentile)
2 Mo- 21.5" (5th percentile)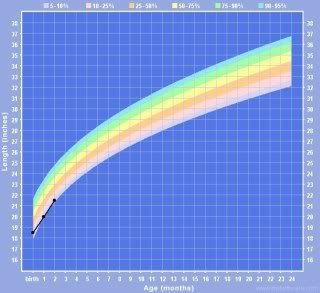 Memorial Day:
Matthew's first time swimming!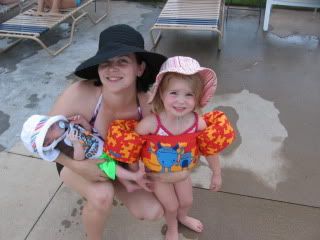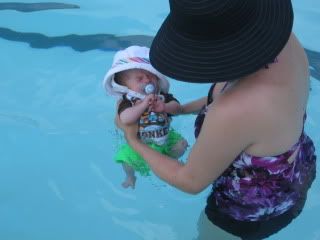 2 Months Old: