It's been so long that I've been here. We've moved back to MI in our same house (it never sold but that doesn't surprise me) Noah seems so much happier. He's learning how to open doors so I'm forever getting him out of our bedroom and the bathroom.
We had his pics taken at Walmart on March 23rd (14 mos, 8 days), here are two of them, my favorites: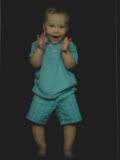 I can't believe how big he's gotten in so little time. He's about 32-34 inches tall and weighs about 35 lbs now! :eek:
His new obsessions are the garbage (found my wallet in there today) and the toilet (loves sticking his hand in there) I keep finding his toys in both places... thank God he hasn't figured out how to flush!
I'm gonna start reading... I've got a couple of months to catch up on! Hope everyone is doing good!!