I'm actually VERY shocked I'm here! I took a test last week and this weekend and both were negative. I honestly thought I'd calculated my cycle wrong and that I was off on the day I expected AF to show up. I was thinking AF should have shown up Monday or Tuesday. I've hardly had the first symptom. One breast was a little sore, but not to the touch and I've felt a little bloated, but thats nothing abnormal.
Anyway, when AF didn't show up this morning (morning is her normal time to appear), I decided to grab a test. And....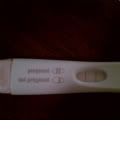 AHHHHHH!!!!!! So exciting!! DH is as shocked as I am. My due date will be January 2.