After 2 and a half weeks in the hospital my little girl is finally home
I am so excited/nervous/scared all at the same time. I have never been so scared to bring a baby home. She was supposed to come home last Thursday but she decided to have a crying fit that morning so they decided to do a head ultrasound to check how things are going up there. That came back and the techs couldn't agree on if it looked like more blood or just her brain growing, they then decided to do a CT. That came back showing that everything was the same but her brain was just evolving so it looked different but they wanted to keep her over the weekend for observation and do a repeat MRI on Monday and then we could go home. Monday rolls around and they do the MRI and I get a call from the Dr saying that it looks like there is either new bleeding or the original has gotten worse so they want to do an MRA and and MRV which are pretty much high grade MRI's. I was crushed and extremely upset because again she can't come home. They try to do the MRA/MRV Tuesday morning and she was not having it and was screaming the whole time so they could not do it. They brought her back down Tuesday evening and again she was not having it. They decided that they will have to sedate her in order for it to get done so I signed off for that, it would only be oral sedation. She was supposed to have it done Wednesday but they bumped her and let another boy get his done since he would be going home as soon as it was done, that made the Dr's mad but there was nothing they could do about it so they scheduled her for yesterday afternoon. They got everything together and gave her the oral sedation, got her stats on track and then brought her down. I waited in the room for roughly an hour and a half after going to get my blood drawn to look for more antibodies in my system that may have gotten to her and they came in and said even with sedation she fought them! She is def a fiesty one! They decided they will have to do the harder drugs to sedate her and put it in through her IV so they got her scheduled in at 5 and got her prepped and added a little more drugs through her IV since the previous ones were still in her system and she was pretty much out from it still. They went down and came back up in about 45 minutes. Turns out even with double sedation she still fought them in the beginning! lol. But she finally calmed down and they were able to get it done.
The dr called me this afternoon and for some reason my stupid phone sent her straight to voicemail but it was the Dr calling to say I could bring her home tonight, best voicemail EVER! She explained to me that the MRA and MRV showed that nothing has changed up there. They have no explanation as to why all of this happened. The only thing they could tell me was that it had happened while she was in the womb more than likely while I was still early on. They dont know if it will ever happen again or if it was a one time thing or even if it will turn into a catastrophic bleed. They have no idea. It scares the hell out of me, it really does. The thought of losing her absolutely terrifies me but I cannot dwell on that. I know they have to tell me that because honestly they really don't know. But I am happy she is home and with me and she will get all the love she ever wanted. She has a list of follow up appointments to go to the next few months and I am sure more will be added on as time goes by. I love her so much and could not imagine life without her.
Here are some more pics of her cuteness
Looking at daddy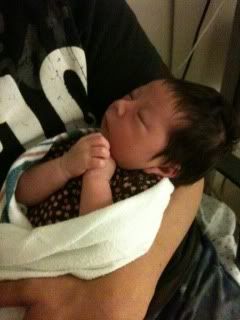 Pondering..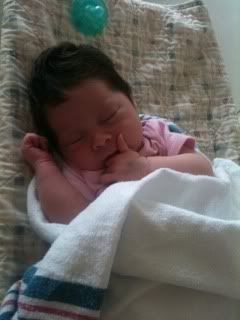 Coming home!