My mom paid to have my DH and i go for a 3D ultrasound so we went yesterday, and of course this little man of mine was extra tired and in no mood for a ultrasound show! I felt him moving like crazy the week leading up to the appt and then monday and tuesday he was really quiet. He was head down but face up and as low as he could go in the fetal position, and he had a hand completly covering almost half his face for almost the entire ultrasound, i had a chocolate bar before going and then ended up eating junior mints during the appt, drinking water, walking, rolling, poking and nothing would wake him up! We finally got him to move and we thought we would be able to actually see him but instead he decided to just roll over so he was head down facing my butt! When i booked the appt i asked about their policy incase something like this would happen and they said we would be able to come back again but the tech told me when we were there that isnt something they offer very often, she also kept telling me that i know my baby and i need to make him move, which annoyed me because its not like i have that much control over what he does! My Dh and i went for a walk for 10 minutes during the middle of the appt trying to get the baby to move and the tech left the dvd recording so we have over 10 minutes of black screen to fast forward through, i understand she didnt want to record over the appt time frame but she could have just stopped it and let us know why she did so we dont always have to fast forward.....it was a lot cheapier place then most of the other places we looked at but it was the only place that was open during the time we would be in the city, i guess you get what you pay for! We did get 3-4 good pictures but 95% of the dvd is in
2D and very blurry so the appt was a little dissapointing, obviously nothing is guaranteed when it comes to baby positioning but the tech was rude and acted like we werent doing what we had to do to make the appt a success......here are some of the pics we did manage to get where his hand wasnt covering his face completly!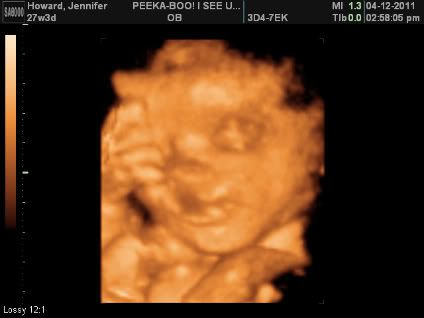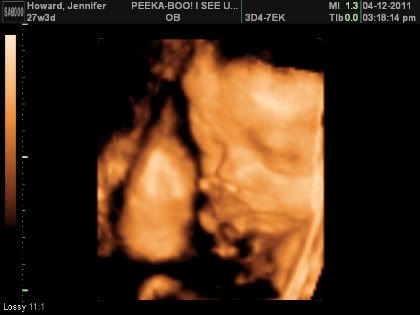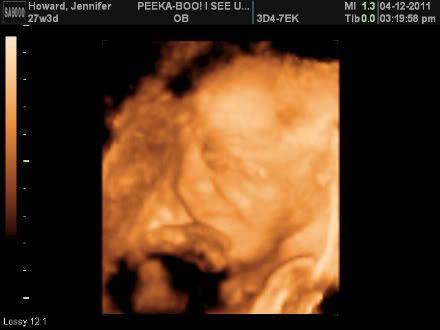 We are poking him at this picture and he is just starting to switch positions....
On a side note......holy moly boobs!!! I was a 34C before i got pregnant.....i have been wearing sports bras most of the time since my boobs started getting bigger, so i had no idea what my size was now.... i went to motherhood maternity to buy some nursing bras......and i figured i was a 36D now.......but no, turns out im a 38E!! And the clerk told me there is a good chance i will have to go bigger once my milk comes in......im still shocked!