I apparently never posted her birth story on here.. so, here it is
Nothing too exciting, but I threw in some extra pictures
Aubree's birth starts Friday, the 24th at midnight. I was woken up in the middle of the night with contractions, as I was laying in bed trying to fight them off, I felt a little 'rush' of fluids and instantly jumped up to the bathroom. My underwear were wet, but nothing crazy (silver dollar sized spot). So I went downstairs and decided I would just try to deal with the contractions. So after sitting downstairs trying to just labor through for about an hour, I just couldn't take the pain anymore and figured Dh and I needed to make "a plan" as to what we're doing. So finally I went up stairs and woke up DH telling him I wasn't feeling well and I wasn't sure if this was it; I told him that I was going to go take a shower and we could kind of go from there. So after my shower I felt a little better and decided to try to lay down. At that point, DH was awake so he came downstairs to clean up a little since my parents were coming into town that day. (back story: once we got my induction date, the 26th, my parents decided they would come out and watch Jacob for us. The original plan was for them to be here Saturday night. Well, my dad being my dad, got too antsy and they changed plans, left Illinois early and the new ETA was Friday morning between 4-6 am.) So once DH went downstairs to clean, I laid down in bed and tossed and turned for about another hour or so. After not getting anywhere sleep wise I came back downstairs to watch tv to try to take my mind off the pain. I called L*D and got their opinion on it, as too if I should come in. They told me that since my contractions were like 4-7 minutes apart, that I wasn't really in "real" labor and I should probably just stay home.. since my parents weren't in town yet, it was just not 'convenient' to go in until they got here, so we just decided to wait it out. About the time my parents got here, they contractions let up to about 10 minutes apart and then sort of tapered off. We chatted and hung out and DH went in for work that morning. I had an appointment at NST that day so we decided we'd just go into that appointment and they could determine if I was in active labor or not. So I laid on the couch until 9 am and labored on and off (I was NOT enjoying it one bit.. haha!). Once we decided it was time to go, off we went.
At about 9 am, we get to the hospital, get up to NST. At that point I was joking with the NST ladies that I was in labor.. so she goes "why are over here, just go to L*D"-- so to L*D we went. Once we get in there it's my doctor in that day. So they get me all hooked up in triage and I'm contracting every 3-4 minutes and I was dilated to a 5 . They did a swab and confirmed that it was amniotic fluid that I was leaking. I was feeling SO sick at that point, all I wanted was some zofran. So they take all my vitals, my BP is up (duh) and my HB was up a little too. So finally my doctor comes over and he's like well, so much for waiting till Sunday huh? so they took me over to be admitted. So they got me in a room by about 11 am? or so and then tried to start an IV. HAHA! Jokes.. jokes jokes jokes. It took two pokes and a good blown vein before they finally got it (my arm looks like a battle field.). I was still contracting pretty bad and still feeling like crap. So finally they got me some zofran which REALLY helped through the contractions. We had the epidural god come over and visit me and he got me all hooked up. As soon as I had my epidural I was happpppppppy lady! Once I had my epidural they gave me some pitocin to try to get my contractions moving closer together so we could progress. So we hung out, napped and just did nothing.
They checked me at 4 ish and I had progressed to 8! . They thought they felt a second bag so they kept talking about the "gush" I felt being a forebag, so they talked about breaking my second bag. I believe about 5pm or so, the doctor came in and broke that second bag. We noticed some meconium in my fluid and that sparked a little red flag, but my doctor said that it didn't seem like a lot so it wasn't anything to be super worried about. At that point everyone kept talking about how well I was doing and how quickly it was going and that I should be able to deliver by 7 pm, which is when MY doctor went home for the night. It was a race to the finish! So since I was 8, we just let me labor. Well 7 pm came and went and no baby
Doctor went home and life got sad. The doctor who was on call that night was the same @sshole that delivered Jacob and I REFUSED to be delivered by him, I wanted to enjoy my experience. At that point my epidural started to wear off and I was getting super uncomfortable. We had the anesthesiologist come back and adjust my epidural and that helped A TON. About 9 pm I started getting the shakes really bad. They took my temperature and noticed that I was 100.4, people started getting nervous. They determined that I had Chorioamnionitis (infection of my membranes/uterus) and that things were getting critical to get her out. My temp kept fluctuating and they discussed with us the risks with Aubree and what they would have to do with her. They decided that she and I would need to be on antibiotics for 48 hours after she was born(mine got started before she was born) to help prevent infection. Had her cultures come back positive, she would have had to stick around for up to 14 days. So finally at 10pm, I had enough antibiotics that they let me push (that and I kept saying "I NEED TO PUSH...now..."). So we started pushing and they kept stretching my umm.. 'opening'.. while I was pushing. Oh man it hurt, but man, was I clueless about pain at that point haha! Finally after 25 minutes she finally dropped into my canal and man that was THE MOST painful thing I've ever dealt with. I didn't stop pushing, I wasn't pushing without contractions, I just kept on going. FINALLY her head popped out and what a total relief! Then they delivered her body and that was it! At first she wasn't breathing how they would have preferred as she was a little clogged up. So they took her over, gave her lots of tubal suction and finally cleaned out her lungs. By the time she delivered my fever was 101.7, hers was 100.7 Once they got her all cleaned out I was allowed to hold her for a few minutes. They had to take her over to the nursery (a "make shift" nicu, since our hospital doesn't have an actual nursery) and get her antibiotics started.About 1 am, they finally got me over to our mom baby room, brought Aubree too us and we got to snuggle
All in all, she did really well with her antibiotics. She got a bout of diarrhea from them so since her cultures were coming back negative there was no reason to keep pushing the antibiotics so they let her not have her last dose! So far the runs have slowed and hopefully within the next few days her poor tum tum will be back to normal! She's adjusting well and big brother Jacob is in love, as are the rest of us..

Chunky monkey!!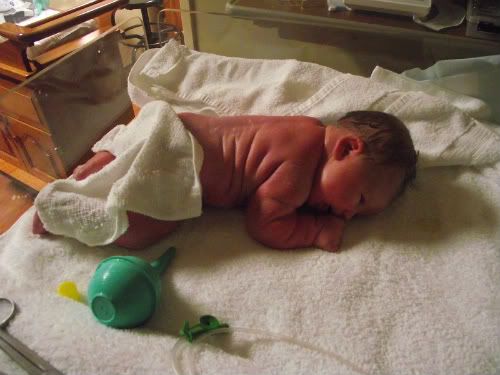 baby rolls! she was soooo red...

Jacob giving her kisses (w/ daddy & g-ma)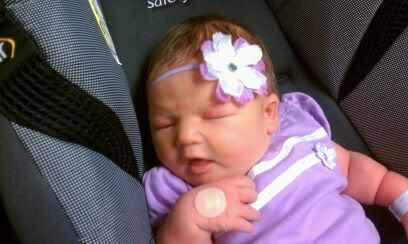 coming home from the hospital!!!