So this will be short and sweet and I will type up a full birth story later today (maybe haha..) but we are finally home
Aubree Olivia R
June 24th @ 10:31 pm
8 pounds 3 ounces (HOLY CRAP) & 20 inches long
--22 hours of labor!!! YAYAYAYAYA!!! hahahaha!!
Gist of it all, Friday morning (like 12:30 am) I was woken up out of bed with contractions that were a good 10 minutes apart.. then as I was laying there my undies got wet, so I went pee and nothing more happened. I came downstairs and just kind of worked with the contractions and didn't think much of it, just another obnoxious night. I went back up to bed about 2 am, told DH I was going to take a shower, I wasn't sure if this was it or what. My parents were coming into town and they were planning on being to my house about 4 am, so my goal was that IF we were going to go into the hospital, to hold off until then. Well I finally got a little nap in, my parents showed up and the contrax stopped for a little. I had an NST appointment that am at 9, so DH and I decided we'd just hold off until that and see what NST said. Went in for my NST and they were pretty much like, why are you here? If you're in that much pain, go to L&D.. so I went to L&D. They checked me in. I was contracting every 3-4 mins and I was 5 cm! So, they decided to just admit me (since I was scheduled for induction on Sunday and it was my DR there all weekend..). SO we got admitted about 11ish, I was in quite a bit of pain by then, got my epidural & some zofran (i was not feeling well) about mid afternoon ish. They checked me about 5ish (i think..) and I was already an 8 and broke my water and that's when we noticed the meconium.. I finally got to push at 10:00pm once I was complete and she was out in 30 minutes-- I have a 1st degree tear AND NO episiotomy! . At about 9 pm they noticed I had a fever and that's when everyone got crazy.. When I delivered her, I had a 101.7 fever, hers was 100.7 and she had a bit of trouble breathing at first until they got her lungs all suctioned out. Once they got that all cleaned out she started breathing good and they weren't so worried about that anymore. We had to stay 48 so she could be on antibiotics, they finally stopped mine on Saturday afternoon. All in all, she looked really great, did really great, bu the antibiotics are giving her a tummy ache and then runs
so she's been a bit fussy. So now we're both home comfortably resting, we've got to run to wal-mart and pick up a few things since breastfeeding isn't working-- she has a horrible latch, she sucks her lips in rather than puckering them out..
But all in all we're home and happy plus a few pictures for you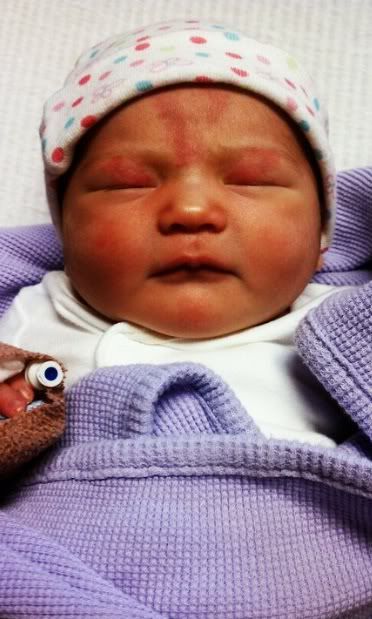 her poor little IV club arm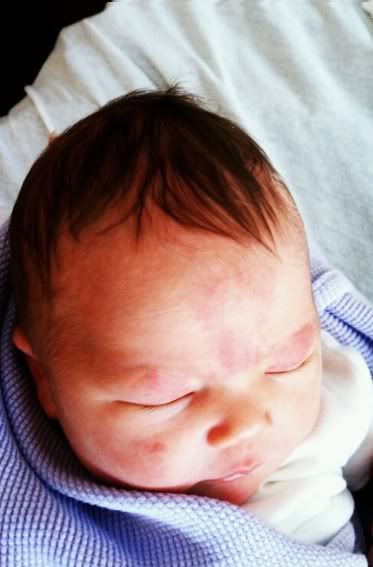 Oh yeah.. she has that hair they kept telling me about hahah!

this is what happens when cram 8 pounds into 20 inches