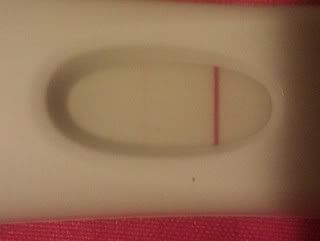 We had been trying for baby #5 for several months but were unsuccessful.....so we stopped trying and decided to wait a few years to try again. Next thing I know, my period is late. I tested at 3 days late and there was no line. I tested again at 4 days late and still no BFP. I tested on Sunday night and I got my first VERY FAINT BFP. I waited a few hours and tested again and sure enough I got another faint BFP. So I pulled out my FRER tests and there it was.....A little faint but you could see it plain as can be!! Tested again Monday morning and there it was again a bit darker. :rolleyes:
DH and I are thrilled and sooooo excited!!
I think my due date is July 3rd
I'm confused though.....I can usually get a BFP at 9DPO and I didn't get that this time. I'm wondering if my lil eggy sat around waiting before it was fertilized and I didn't conceive right after I ovulated?? and thats why I didn't get a BFP until my period was 5 days late.