I was scheduled to go in for my induction at 6:30 a.m. on Thurs 7/4. The night before though I was having really strong contractions and my poor dad was all concerned I was going to have a baby that day lol. I woke up on Thurs morn still preg so we were all good. We got to the hospital and they checked me and I was already 6 cm and 90% thinned out. However shortly after we got there, there was a crash c-cection so we had to hang around in our room and wait for a while. Finally at 11:00 they got my IV going and gave me the smallest dose of Pitocin to get me going. Sure enough I started having contractions regularly about an hour later. They weren?t too bad, but I was having some pretty good back labor, which I figured would happen since she was sunnyside up. After talking with my ob we decided to get an epidural placed if anything to help my body relax and hopefully turn baby so things would progress better. I was having a hard time relaxing and also Paisley?s heart rate would dip with each contraction which they knew was just because of the way her little head was being compressed since she was facing up. I got the epi at 2:00 and it was AMAZING!! For the first time in months nothing hurt lol. My nurse?s shift was ending at 3:30 so we kept saying we have to have this baby by then lol. We spent the next hour joking around and watching Saved By The Bell, (lol) At 3:01 I started feeling EXTREME pressure so my nurse checked me and I was not only complete but she was starting to crown!! So she called my OB who was thankfully already at the hospital checking on another patient, They knew she would be there within a few minutes so they broke down the bed. I remember thinking this is weird I feel no pain and I am about to have a baby?..Fine by me. Once they got the bed ready they had me do a, ?practice? push and 2 seconds in my nurse said, ?Whoa! Never mind let?s not do that!? At that point my OB walked in the room and said, ?Oh, whoa, ok! Let me put on my gloves!? As she got on her second glove I had another contraction and I pushed one time and she came flying out, holding onto her cord and screaming. My OB said, ? Holy cow girl, that was some amazing pushing!? She was born at 3:07 weighing in at 7 lbs even and 20 inches long. She is such a tiny little peanut. When she came out I could not believe how little she was compared to her brother and sister. They put Paisley on my chest and we stayed that way for about an hour. I had no tears which surprised me because she came so fast. Her apgar at birth was 9, and she was absolutely perfect. After an hour of holding her and feeding her. I took a shower while she got all cleaned up in the same room. We then moved to our post partum room and that was that. All in all I am very happy with my birth experience. It wasn?t what I had planned, but it was still great. Paisley has like no hair which is weird since my other babies were born with un natural amounts lol. She also looks totally different from her siblings, not that they look alike either, so it is weird we have 3 kiddos who all look unique. Paisley spends all her time eating and I have barely had time to do anything but sit around with a baby on my chest, which is just fine by me :)When we left the hospital she still weighed 6 lbs 11 oz so she clearly likes her food lol. We have an appt tomorrow and I am curious to see how much she weighs with all this marathon eating. I am feeling great, much better than I did last week that is for sure. Recovery has been actually very easy this time, which has surprised me.
Sorry this is all over the place and there are prob a million typos, but I am doing this all with a baby in my lap
Here are some pics~
We were bored
The time code on this pic was 2:56, so 11 min before she was born, My epi was great
Fresh after her bath

Proud big sister

Proud big brother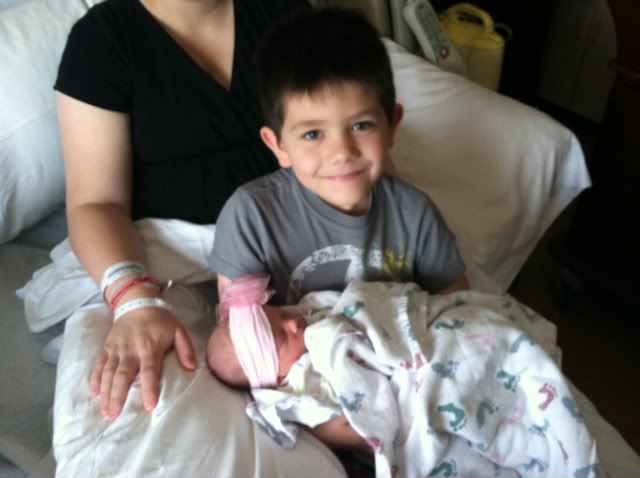 Headed home!!!